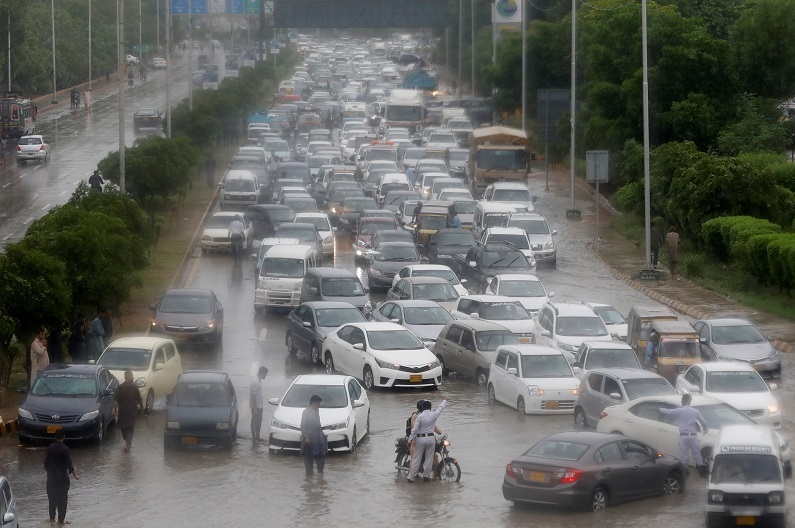 ---
KARACHI:
Sindh government spokesperson Murtaza Wahab identified on Tuesday encroachments as one of the main factors hampering the drainage of rainwater in Karachi, as the city continued to witness downpours for the fifth consecutive day.
"The Sindh government has plans to remove encroachment, but first arrangements need to be made for providing alternative accommodation to the people who will be displaced [by the removal of encroachments]," he said, adding that the government was considering various options regarding it.
Responding to a question about the accumulation of rainwater in Central district during a talk with media persons at his office, he maintained that while the original plan for the district was well made, involving the construction of wide roads, problems had emerged due to "poorly planned" transport projects undertaken by the federal government.
"At many places, the Green Line bus project infrastructure and flyover pillars encroach upon stormwater drains, obstructing the flow of water and resulting in it inundating the roads," Wahab claimed. "And, where on one hand, citizens face immense difficulties [because of this issue], on the other hand, it is the Sindh government that faces criticism [because of it]."
He further pointed out that the railways department, which was under the federal government, had set up housing societies encroaching upon Sharae Faisal - the city main thoroughfare.
The spokesperson also lamented the Sindh government's "lack of authority" over the city's land and infrastructure.
"Karachi's land is owned by 17 agencies, with most of the portion of Sharae Faisal falling under the control of cantonment boards," he said. "The [Pakistan Peoples Party-led] provincial government has control over barely 40 per cent of the city, with the rest being controlled by federal government agencies and cantonment boards. But whenever a problem arises, the blame for it is shifted to the Sindh government, Karachi Metropolitan Corporation or district municipal corporations, out of utter malice."
On the matter of the formation of Keamari district, Wahab said those opposing it themselves divided Hyderabad into four districts. "Now, they are finding it annoying that [following the formation of a new district] the problems of Karachiites are [to be] solved at their doorsteps," he remarked.
Without naming the persons to whom he was alluding, he added that those elements were also responsible for the metropolis' civic issues, and had "misused powers in the past and commercialised the city's main highways."
Wahab stressed that the solution to the port city's problems lay in appointing a single authority rather than multiple "heads or mayors," and called for "indiscriminate accountability" of civic bodies. Besides, while talking about the formation of the committee to address Karachi's issues, he said the federal government needed to be serious about resolving the metropolis' problems.