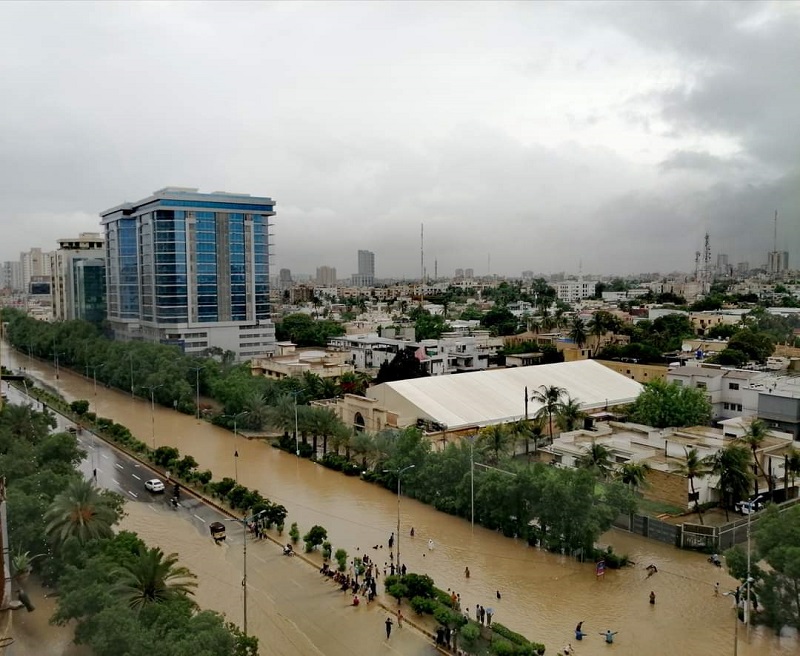 ---
KARACHI:
As monsoon rains poured down Karachi, Tuesday saw most business activity suspended in the metropolis. Over 80 per cent of the city's markets and business centres remained shut as rainwater accumulated on roads and thoroughfares, hampering access to the main markets.
Inundated roads and flash flooding in several areas prevented traders, staff, and consumers from reaching market places and business centres in the city.
Despite the repeated standstills the city has suffered due to rains, as well as timely weather alerts, the provincial and local governments appear to have failed to ensure improvement in neither the city's drainage system nor its road infrastructure.
Meanwhile, according to All Karachi Tajir Ittehad Chairperson Atiq Meer, the recent downpour has led to a loss of over Rs4 billion for traders across the city as rainwater flooded marketplaces, shops and warehouses alike.
Speaking to The Express Tribune, a traders' representative criticised the local authorities over their failure to drain the rainwater accumulated in various places from previous rain spells this monsoon season. Even in areas where drainage work was being carried out, the intermittent rain spell from Monday night and all through Tuesday has now led to more rainwater collecting on roads, he added.
The city should be declared as disaster-hit and business activity should be restored in the rain-affected areas at an emergency basis, he appealed.
Meanwhile, in Nursery, a furniture market found itself swamped with rain and sewage water. Speaking to The Express Tribune, shopkeepers said that rainwater accumulating in Sharae Faisal, Sharae Quaideen and Nursery flooded their stores, damaging furniture worth millions of ruppees.
Despite their own efforts, they said they were unable to prevent the water from entering their stores, only managing to wade out of the market, with over waist-deep water, by assisting each other. They claimed to have alerted the district authorities, the Karachi Metropolitan Corporation (KMC) and other relevant offices, but to no avail.
According to one such shopkeeper, there was a stormwater drain near the furniture market that the authorities had failed to clean despite repeated complaints.
Major city markets such as Bolton Market, Saddar Bohri Bazar, Joriya Bazar, Motandas Market, Juna Market, remained closed on Tuesday as well as electronics, paper, cloth, and utensil markets in the old city area. Several other trading centres also remained shut across the metropolis.