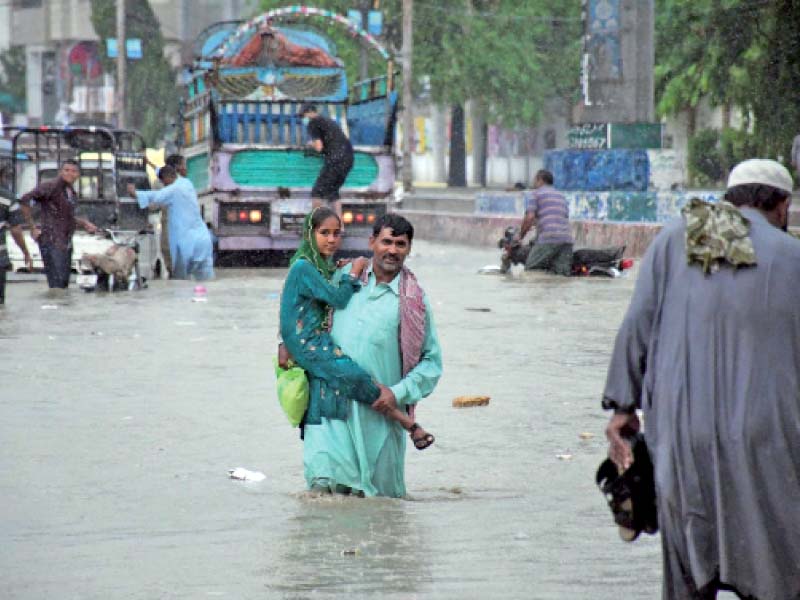 ---
KARACHI:
The recent rain spell not just flooded Karachi, but also washed away whatever little credibility was left of the Sindh government, said Pakistan Tehreek-e-Insaf (PTI) parliamentary leader Haleem Adil Sheikh outside the Sindh Assembly on Monday.
Talking to the media , the PTI leader also countered criticism directed by Sindh government spokesperson Murtaza Wahab towards authorities in Lahore, Punjab, where the PTI leads the provincial government, after the city was flooded in the wake of a heavy downpour.
"Three days ago, Wahab, referring to a picture of a donkey drowning in Lahore, seemed devastated by its death. But he does not show [the same] care for citizens who drowned in Karachi's nullahs," remarked Sheikh. "Rainwater was drained within just five hours [after the rain] in Lahore, but Karachi has remained flooded for the past few days."
He went on to question Wahab's silence on pictures of flooded streets near Nagan Chowrangi, saying that the images had been published in newspapers the previous day.
"I wish that Sindh's rulers had expressed even half of the concern they had shown for the donkey in Lahore towards the residents of Nagan Chowrangi, Ahsanabad, Khuda Ki Basti, North Karachi, New Karachi, FC Area, neighbourhoods in vicinity of Gujjar nullah and Surjani Town," he went on. "As many as three citizens drowned in Karachi within an hour, but no one came to their rescue. Similarly, there was no one to rescue the Baloch boy who drowned in Teen Hatti while trying to save his football from being washed away."
The PTI leader further said a senior minister, whom he did not name, held the National Disaster Management Authority (NDMA) responsible for the city's situation. "But the Supreme Court had assigned the NDMA of cleaning of just three nullahs," he reminded. "Who will clean the remaining 35 large and 200 small nullahs?"
It is pertinent to note that of the three major nullahs cleaned by the NDMA, Gujjar nullah overflowed after the rain on Friday.
Lambasting the Sindh government for failing to clean the city's remaining nullahs, he said that given the forecast for more rain in the city, it was high time that the provincial government stepped forward to help citizens and take measures for draining rainwater.
Published in The Express Tribune, August 25th, 2020.