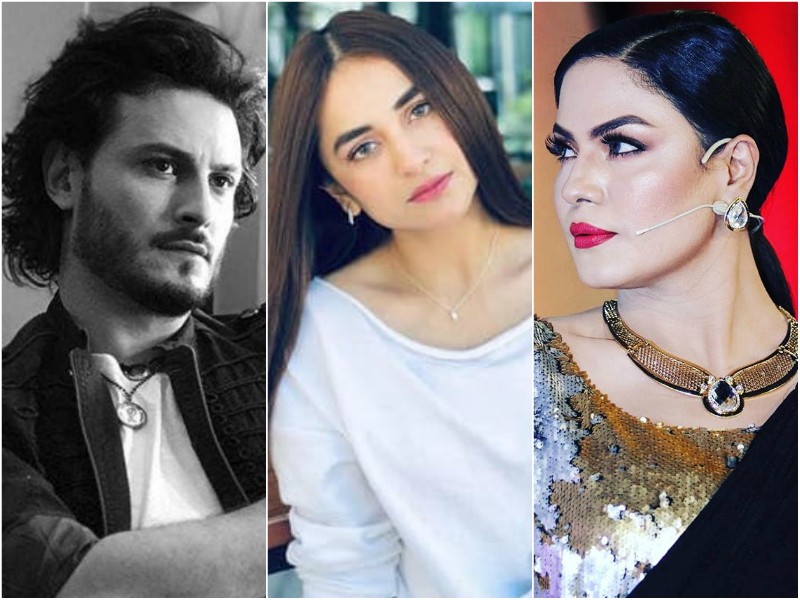 ---
Today marks a year since the Modi government launched demographic apartheid in Indian Illegally Occupied Jammu & Kashmir (IIOJK), dividing the region into three parts. Thus, the day is being observed as the Kashmir Siege Day (Youm-e-Istehsal) to denounce Indian prime minister's brazen attempts at usurping the region.
As the PTI government unveiled a new political map of Pakistan spurning Delhi's territorial claims on the region, several public figures, including our celebrities, voiced their support for the Kashmiris of India, demanding for justice to be served. Others, however, extended their prayers to the people of Beirut after a devastating explosion ripped through the Lebanese capital on Tuesday.
"Mr Modi, even your suppress has failed to make Kashmir yours," tweeted Yumna Zaidi along with a poster reading "Kashmir is not part of India."
Actor Osman Khalid Butt simply retweeted a post by StandWithKashmir that featured a video of Black, Indigenous, Uighur, Palestinian, and Rohingyan voices extending their support to the people of Kashmir in their struggle for self-determination.
Actor Zhalay Sarhadi also tweeted saying, "Youm-e-Istehsal. We stand with you Kashmir. #Kashmir #5thAugKashmirIstehsalDay"
Actor Veena Malik on the other hand, ended up sharing a series of tweets on account of the occassion. She first wrote, "Imagine 365 days of lockdown in any western country and people being tortured, raped and killed by the military? It's happening in Indian Occupied Kashmir but the so called democratic world and it's human rights organisations are silent. #KashmiriLivesMatter"
She continued to add relentlessly, "Modi is involved in Muslim Genocide in Kashmir for his RSS supporters. Human Rights organisations need to open their eyes now. 8 million human lives are at stake. #KashmiriLivesMatter they are humans and deserve to be treated like one.
She then expressed how India's genocidal and oppressive tactics had aggravated the deprivation and "political alienation" of Kashmiris, giving "new impetus to indigenous freedom movement in IIOJK." The celebrity relayed how the world has become more aware of the siege and conluded by tweeting, "'You can cut all the flowers but you cannot keep spring from coming.' #KashmiriLivesMatter"
Often insightful, actor Armeena Khan also took to Twitter and shared photos of how the day was being observed across the world. She wrote, "Friends of Kashmir standing in solidarity against the oppression - no human deserves to live in fear and chains. Pictures from Newyork and London #Kashmir #KashmiriLivesMatter #forhumanity"
Whereas cricketer Shahid Afridi shared a post with the hashtag #IAmKashmirAmbassador.
Earlier, the Inter-Services Public Relations (ISPR) had also released a song for Youm-e-Istehsal in solidarity with the Kashmiris. Following this, actor-cum-host and producer Faisal Qureshi shared it on his Twitter and wrote, "Akhir kab tab (for how long?) Kashmir song August 2020."
Whereas actor Ali Rehman Khan also retweeted it saying, "I stand with Kashmir. I am Kashmiri." wrote Khan.
Have something to add to the story? Share it in the comments below.
COMMENTS
Comments are moderated and generally will be posted if they are on-topic and not abusive.
For more information, please see our Comments FAQ