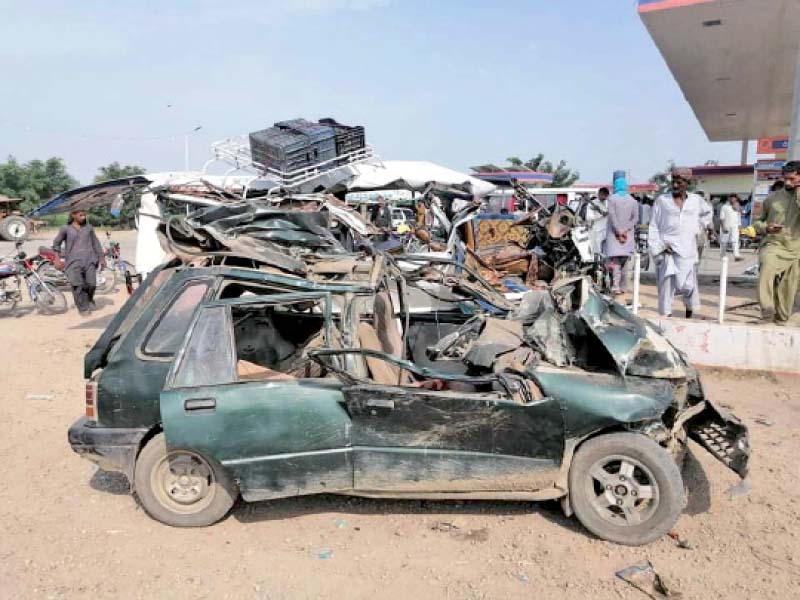 ---
MUZAFFARGARH:
At least six people were killed and 10 others sustained injuries after a speedy passenger van collided head-on with a car near Khudai Adda on Jhang Road in the suburbs of the city on Tuesday.
The car was travelling from Ahmed Pur Siyal to Multan while the passenger van was on way from Multan to Ahmed Pur Siyal and the vehicles collided head-on upon reaching near Khudai Adda, causing the deaths and injuries.
A spokesperson for the Rescue 1122 said the deceased were all residents of Multan and also included two women and a baby girl.
The deceased were identified as Muhammad Abbas, 30, Iqbal, 56, Ahsan, 26, Ayat Fatima, 6, Shaheen, 25 and Zakia, 28. The injured included Liaquat, Habib, Waseem, Sharif, Hanif, Amjad, Abdul Sattar, Baqar, Syed Talat Shah and Gulshan were admitted to hospital for treatment.
Muzaffargarh Rescue 1122 coordinator said around five to six persons were riding the car but added it was unclear how many car riders or van riders were among the dead. He further said that the bodies of the dead were being handed over to their heirs.
This is not the first incident involving multiple deaths and injuries in an incident of a vehicle collision in Muzaffargarh.
On January 18, at least five people sustained serious injuries when a van collided with a truck near Ganjaywali Bridge, Alipur Road. According to Rescue 1122, a van collided with a truck parked alongside a road on Alipur Road. As a result, five persons sustained injuries. Rescue teams rushed to the spot and shifted the injured to a hospital.
On November 19 last year, eight passengers were killed and another four sustained injuries when a passenger van collided head-on with a truck on Muzaffargarh-Alipur Road.
The accident occurred when a speeding van hit a truck head-on while overtaking a motorcycle at Dedh Lal Chowk near Rohillanwali. As a result, seven passengers of the van and the motorcyclist were killed.
Four Rescue 1122 ambulances rushed to the spot where the teams provided first aid treatment to four injured passengers before shifting them to a hospital along with the deceased. The injured include Hanif, Yasir, Osama and Siddique.
Published in The Express Tribune, August 5th, 2020.
COMMENTS
Comments are moderated and generally will be posted if they are on-topic and not abusive.
For more information, please see our Comments FAQ