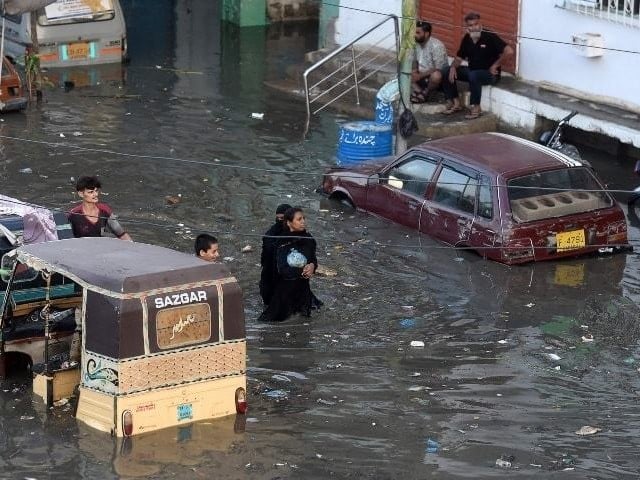 ---
A day after Prime Minister Imran Khan had asked the Pakistan Army to help in cleaning up rain-hit Karachi, the Inter-Services Public Relations (ISPR) confirmed in a brief statement that army troops called in to assist the civil administration.
"Army called [in] to assist civil administration for managing Urban Flooding Situation in Karachi," the military's media wing said on Thursday.
The ongoing monsoon spell turned many roads in the port city into rivers of filthy rainwater and left many houses and shops flooded. As many as 10 people, including children, had died in the last few days of rainfall in the metropolis.
The Sindh government, though, insisted that the situation "could have been worse" and claimed that the situation was "promptly" handled.
In a tweet on Wednesday, PM Imran said he had also directed National Disaster Management Auhtority (NDMA) and army to clean up the port city in the aftermath of the rain.
In the face of the monsoon devastation, Sindh Information and Local Government Minister Nasir Hussain Shah, after visiting different areas of the city, defended the provincial government and called it a "natural calamity," adding that even developed countries were affected by heavy rainfall.
"The Sindh government has been implementing emergency [rainfall] measures under a comprehensive, integrated policy for several months. The situation is not 100 per cent, but at least we are in the field with our people," he had said.
Leaders of other political parties, though, lambasted the Sindh government, with Pakistan Tehreek-e-Insaf (PTI) Karachi president Khurrum Sher Zaman claiming that the situation spoke volumes about the provincial government's performance.
COMMENTS
Comments are moderated and generally will be posted if they are on-topic and not abusive.
For more information, please see our Comments FAQ