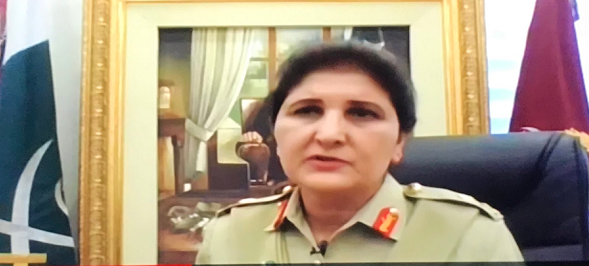 ---
The country's first female Surgeon Lt-Gen Nigar Jouhar has said that Pakistan Army believes in merit and her appointment to the rank of lieutenant general last month is a reflection of meritocratic system being followed in the instituion.
In an interview with BBC, Lt-Gen Nigar said that it takes determination and hard work to achieve goals and success in life.
"All that is required a passion to work and dream to follow and if you work then gender does not create any hurdle in your way," she said.
She said women have a status and are treated with respect in Pakistani society. "They have economic, social and all other kinds of securities in the country."
Pakistani women are making progress in all walks of life including in communication and information technology, she said while responding to a question.
The first female lieutenant general said she is proud to be the part of Pakistan Army and added that her institution is assisting the civil administration in all possoible to fight the Covid-19 outbreak in the country.
She made history last month by becoming the first female officer to be promoted to the rank of lieutenant general owing to her spectacular performance in different leadership and administrative roles.
At present, Nigar is serving as commandant Pak-Emirates Military Hospital, Rawalpindi.
She is also a recipient of Tamgha-e-Imtiaz (Military) and Fatima Jinnah Gold Medal for her meritorious services in Army Medical Corps.
Born in Panjpir village in Swabi district of Khyber-Pakhtunkhwa to a Pashtun family, Nigar received her early education from the Presentation Convent Girls High School, Rawalpindi in 1978 and graduated from the Army Medical College in 1985.