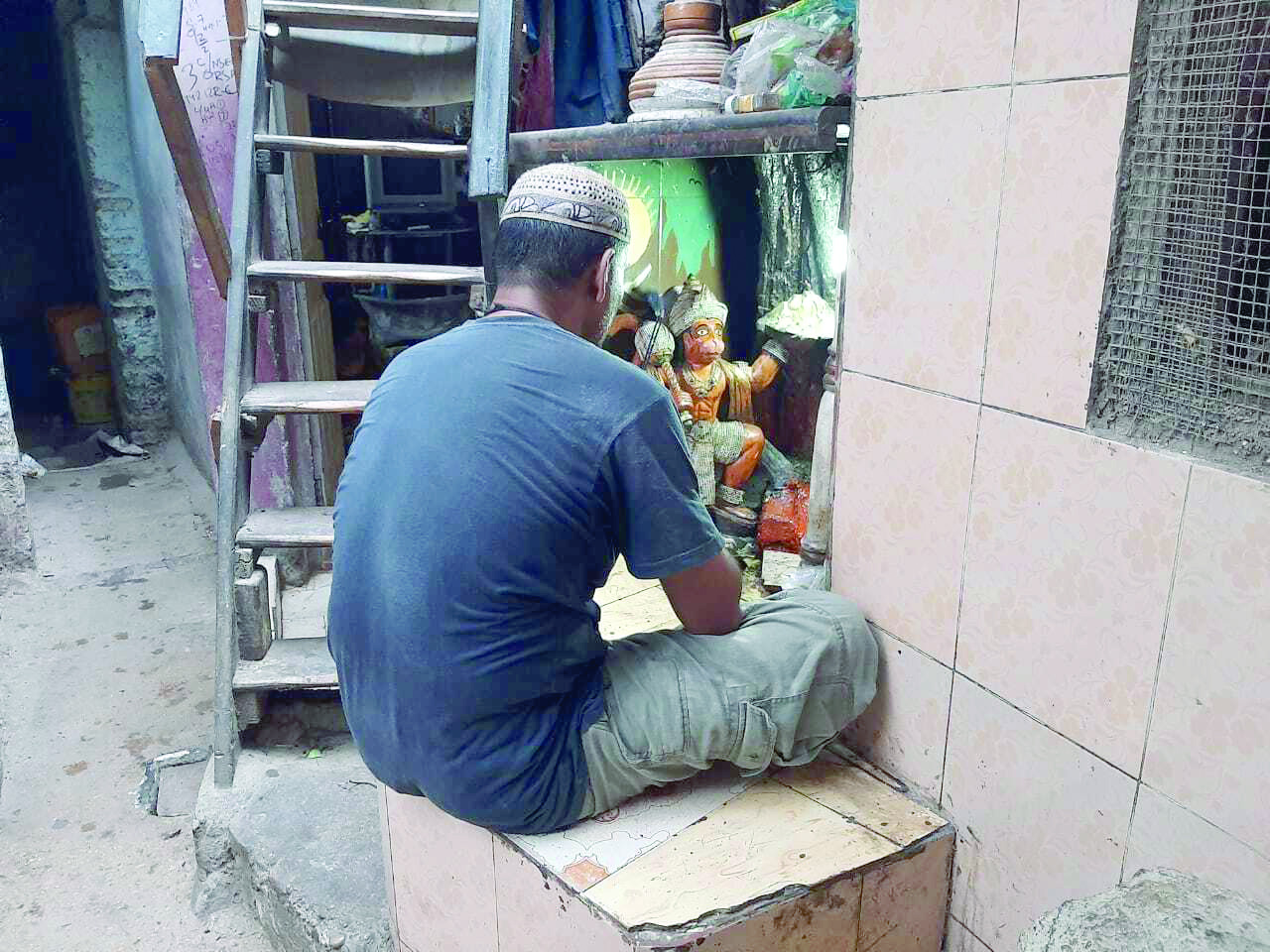 ---
KARACHI:
"You are free to go to your temples… in this State of Pakistan," said Quaid-e-Azam Muhammad Ali Jinnah on the eve of Independence.
In hindsight, prudent minds may regret that nobody asked him this: what if there are no temples left?
Over the years, temples have vanished from Pakistan's largest city, their remnants both a reminder of the past and a foretelling of a bleaker future for the port city's Hindus.
The temples that were
Pradeep* realises this. For him, the disappearance of their houses of worship is the writing on the wall. Maybe it was this haunting reality that made him reluctant to enter Kutchi Gali, or maybe he was trying to evade the memories of a better past. Either way, his anguish was apparent.
In his younger days, Pardeep, his father and his uncles were frequent visitors of a Shiv-Jo-Mandir there, in the middle of crowded Juna Market. It now exists only in their memories, its site buried under piles of garbage.
According to him, the area surrounding it has been encroached. He reckons its sole surviving room, too, will soon been occupied and converted into a shop.
But it was not just the bells of Shiv-Jo-Mandir that resounded through the locality that had a Hindu majority before Partition, said Harsi Darsi. "At the other end of Kutchi Gali was Doolh Mandir, constructed so that it connected with Shiv-Jo-Mandir. It has been replaced by residential and commercial buildings."
Besides, he recalled, there also used to be a dharamshala [a resthouse for pilgrims] there. It is now a shop selling naswar.
According to Darsi, who belongs to the only remaining Hindu household in the locality, all the temples' land was occupied during General Ziaul Haq's reign. Matters worsened after the demolition of Babri Masjid in India, and the few Hindu families left in the area left too, he elaborated.
But this is not just the story of Kutchi Gali.
There used to be four temples in Moosa Lane - a Jagdesh Mandir, Hanuman Mandir, Sheer Ganesh Mandir and Shiv-Jo-Mandir - as well as a dharamshala. All four have been encroached, while a handful of Hindu families live by their remains, said Sandeep, who lives nearby.
"The only temple [in the area] we can visit now spans just a few feet," he said, pointing towards the miniscule temple.
Outside its closed doors, a woman sat lonely and morose.
Lakshmi, visiting the temple after two years, said it was usually shut.
Overcome by emotion, she said that the idol in the temple was brought here two years ago, from another temple that was being razed.
"But this one, too, is being converted into a residential building now," she cried, explaining that 18 families living around it had been forced to take money and vacate the land.
Shrinking spaces
The tale of disappearing Hindu temples continues at Fida Hussain Shaikha Road in Baghdadi, which had two small temples in a residential compound. According to some Hindu families, the land has been "forcibly" occupied by builders.
A devotee, on the condition of anonymity, told The Express Tribune that one of these two temples was razed while the other was kept shut. Standing outside the latter's closed doors, he exclaimed, "Even Maharaj [a religious leader] is not allowed to enter."
According to Papoo, another Hindu Karachiite, the city was home to several large and small temples until the 80s. "Few of them remain," he said. "They have either been encroached completely or reduced to just a few feet."
His words were reaffirmed by Mohan Lal, who claimed there had been two dozen temples near the port alone.
Criticising the authorities for being uncaring about their plight, he said, "Like us Hindus, our temples too are disappearing. Our sacred places are shrinking and it hurts."
Going back to Jinnah's vision of Pakistan, he pointed out, "For Jinnah, Pakistan meant a place where all had the right to worship freely."
Today, though, his vision seems a distant dream.
*Name changed to protect identity
Published in The Express Tribune, July 13th, 2020.
COMMENTS (1)
Comments are moderated and generally will be posted if they are on-topic and not abusive.
For more information, please see our Comments FAQ