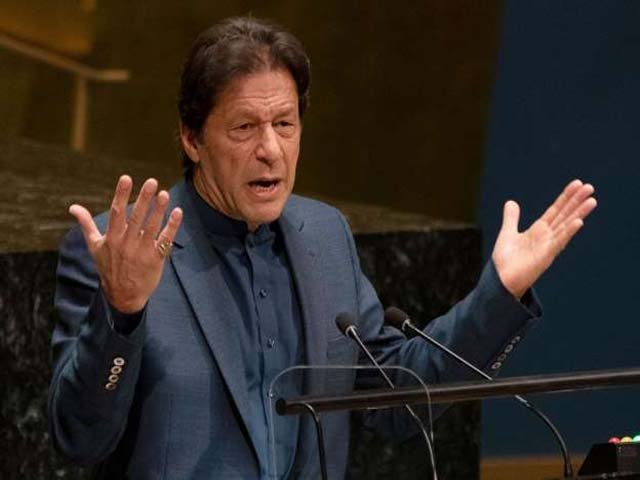 ---
ISLAMABAD:
Prime Minister Imran Khan on Saturday expressed fear about a genocide taking place in Indian-Occupied Kashmir (IOK) similar to the one that took place Srebrenica, Bosnia in 1995.
Speaking on the 25th memorial anniversary of the genocide that took place in the Bosnian municipality, PM Imran drew the world community's attention towards a similar genocide in IOK. The premier in a televised message said that he "along with most people who have feelings of humanity" still remember the day and question how could it happen in the presence of the United Nations' peacekeeping force.
Recalling the gruesome incident, the premier said that "I remember the day very well. I remember when it happened along with most people who have feelings of humanity. We were shocked. We were appalled that how, in a what was a safe haven of the United Nations peacekeeping force, this massacre was allowed to take place."
The prime minister added that when he remembers what happened in Srebrenica 25 years ago, "I still feel the shock how such a thing could have been allowed by the world community."
Urging the world community to learn lessons from the incident, PM urged that "the world community must never allow such things to happen again." Subsequently, in his speech, he drew the world community's attention towards occupied Kashmir, saying Pakistan sees a problem for the people of Kashmir.
"800,000 Indian troops have besieged 8 million people of Kashmir and we all fear that a similar sort of massacre may follow there," PM Imran said, adding that "the world community must take notice and never allow such acts to take place again."
He concluded his speech by sending "Salam and best wishes to the people of Bosnia" from the people of Pakistan.
According to Amnesty International, more than 8,000 Bosnian Muslim men and boys were killed after the Bosnian Serb Army attacked Srebrenica, a designated UN "safe area", on 10-11 July 1995, despite the presence of UN peacekeepers.
In 2017, it said, the International Criminal Tribunal for former Yugoslavia found Ratko Mladić, a Bosnian military commander, guilty on 10 of 11 counts, including genocide and persecution on ethnic and religious grounds of Bosnian Muslims and Croats, as well as extermination, murder, deportation and other inhumane acts.
While the bodies of more than 7,000 victims of the Srebrenica genocide have been exhumed, identified and buried, it added, more than 1,000 people are still missing or their remains awaiting recovery and identification.
Despite high-level prosecutions of some principal architects of the war in Bosnia and Herzegovina, including Mladic and Radovan Karadzic, it maintained, there is still a huge backlog of cases pending before courts in the country.
India had deployed tens of thousands of Indian troops before India ended IOK's special status in August 2019 and split it into two territories to be directly ruled by New Delhi. Since then, Kashmir has been under lockdown and it has no connection with the world community.

Watch his video message here: