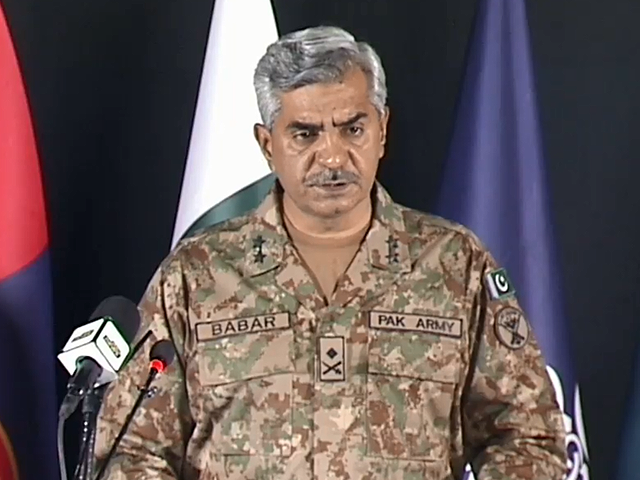 ---
RAWALPINDI:
The Pakistan Army on Thursday "vehemently" denied the presence of Chinese forces in the country after unsubstantiated reports circulated in Indian media claiming the presence of Beijing's combat aircraft at a forward Pakistani air base.
Indian media claimed that after the recent Sino-India clash in the Galwan Valley area of Ladakh – part of the disputed Jammu and Kashmir region – additional deployment of army troops has been made along the Line of Control (LoC) and China has deployed combat aircraft at Gilgit-Baltistan's Skardu Air Base.
Referring to the news as "irresponsible and far from truth", the Inter-Services Public Relations (ISPR) said no such movement or induction of additional forces has taken place.
Earlier in June, the Indian army said that 20 of its soldiers were killed in clashes with Chinese troops at a disputed border site, in a major escalation of a weeks-long standoff in the western Himalayas.

In a statement, the IA said that 17 critically injured Indian troops succumbed to their wounds, in addition to an officer and two soldiers who had died earlier.

Indian and Chinese troops have disengaged in the areas where the clashes took place, the statement had claimed.
Border skirmishes between the two sides started on May 5 at the Galwan valley in Ladakh, followed by Nakula pass in India's northeastern Sikkim region three days later.

China claims territory in India's northeast, while New Delhi accuses Beijing of occupying its territory in the Aksai Chin plateau in the Himalayas, including part of the Ladakh region.

The two countries even fought a war over the hilly state of Arunachal Pradesh in 1962, called the Sino-Indian War.

In 2017, the two armies were locked in a 73-day standoff in the disputed Doklam plateau near Sikkim, over the construction of a road by the Chinese.

The Asian giants have rival claims to vast swathes of territory along their 3,500 km (2,173 mile) Himalayan border, but the disputes have remained largely peaceful since a border war in 1962.