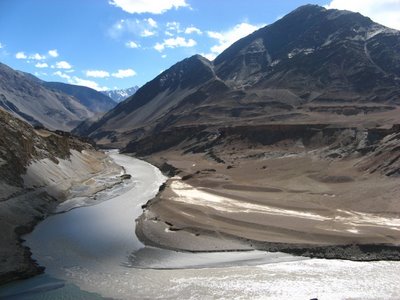 ---
KARACHI: Social activists, water experts and politicians staunchly opposed on Thursday the construction of dams on Indus River, maintaining that the move would cause further damage to the already dying Indus Delta.

They expressed these views during an online session organised by the Pakistan Fisherfolk Forum (PFF), which works on issues pertaining to fishermen, peasants, water and environment.

Speaking on the occasion, PFF chairperson Muhammad Ali Shah noted that stopping the flow of the Indus River by constructing dams had pushed the communities residing along it to the wall, both socially and economically.

"Water, which would bring along silt for the growth of fish population, replenished lakes and enriched the soil, has either been constrained or dried up," he lamented.

He said that with the decrease in the flow of water to the Indus delta, various waterways, creeks, lakes and underground water resources had turned brackish, leaving water in ponds and wells undrinkable  and forcing locals to purchase water for drinking.

Shah further pointed out that land had turned barren due to increased salt in water bodies, damaging fisheries and forcing people to migrate.

"Despite this, the federal government is constructing dams that would further jeopardise life connected with the Indus River," he said.

According to Shah, the previous construction of dams and barrages on the river has resulted in sea intrusion on four million acres of land in the delta region across Thatta, Sujawal and Badin districts. Consequently, 1.2 million people have migrated from the region and two million are badly affected by lack of discharge of water downstream from the Kotri barrage, he added.

Prof Altaf Ali Siyal from the Mehran University of Engineering and Technology said that silt draining in the delta had reduced by 80 per cent, causing increased sea intrusion. Citing a study, he said that consequently, the delta had shrunk by 90 per cent.

He called for adopting water management techniques instead of relying on hydraulic structures. "Under the changing climatic scenario, the construction of new hydraulic structures will cause the river's flow to decrease further," he warned.

Published in The Express Tribune, June 27th, 2020.
COMMENTS (1)
Comments are moderated and generally will be posted if they are on-topic and not abusive.
For more information, please see our Comments FAQ