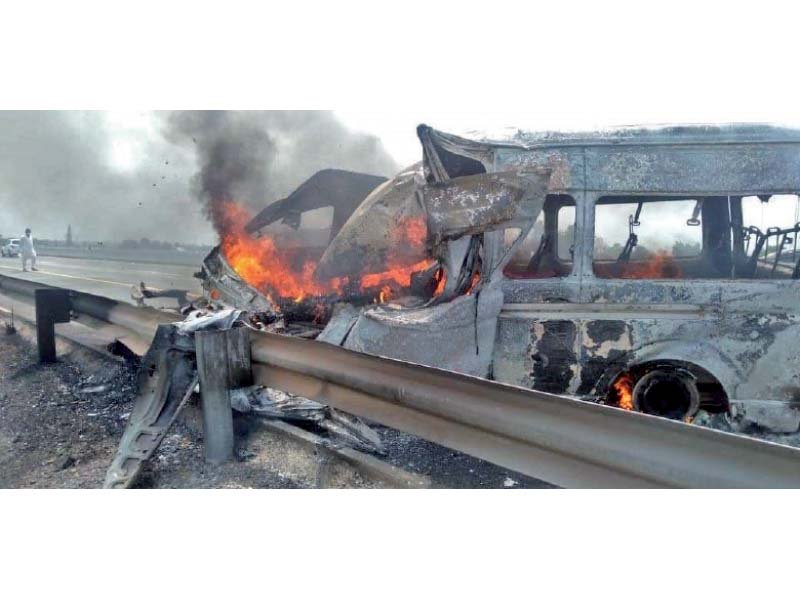 ---
FAISALABAD: At least six members of a family going to attend a Valima ceremony were killed when a van caught fire after an accident on the motorway near Gojra on Monday.

The deceased included two children and a woman, while 10 people, including six children, were injured. They were admitted to the Allied Hospital.

Rescue 1122 teams had to cut the vehicle to retrieve the bodies after extinguishing the fire. The bodies were charred by the fire. Rescue officials handed them over to the police.

The fire engulfed the van after it collided with a container truck.

Officials of the area and motorway police, district administration and rescue service reached the spot for rescue operation after the accident.

The family from Sheikhupura was traveling in the van on the motorway to attend a Valima in Shorkot.

When they reached Faisalabad-Gojra Motorway near Chak 62JB, Chanan, in Sandal Bar area, the van collided with the truck and then hit the divider and caught fire.

The flames engulfed the van, killing six-year-old Ehtesham, son of Sufyan, nine-year-old Muhammad Kaif, seven-year-old Abiya, 32-year-old Khaleda Parveen, 22-year-old Muhammad Bilal and 45-year-old Imran.

The 50-year-old van driver Abdul Rasheed, son of Sadiq, 30-year-old Sirat Bibi, wife of Ijaz Ahmed, 14-year-old Sadia, daughter of Siddique, 32-year-old Saba, daughter of Siddique, seven-year-old Faiqa, daughter of Sufyan, 13-year-old Samia, daughter of Sadiq, 12-year-old Mujeebur Rehman, son of Ijaz, 13-year-old Matiur Rehman, 10-year-old Kashaf and Abdul Qayyum, son of Sadiq, were injured. They were rushed to hospital by rescue teams for treatment of burn injuries.

Saddar DSP Jamshed Iqbal, Sandal Bar SHO Abid Jutt, Assistant Commissioner Omar Maqbool and other officers supervised the rescue operation.

Motorway police closed a lane for traffic during the rescue work.

Later, police handed over the bodies to the family after completing legal formalities. According to Allied Hospital sources, Kashaf and Saba are in critical condition.

This is not the first incident of road accident in the city involving multiple deaths of passengers. On May 27, six members of a family, including two women and two children, were killed whereas two minors were injured when a car hit a dumper truck on a motorway in the Muridwala area.

During the Eidul Fitr holidays this year, a total of 11 people were killed in traffic accidents in Faisalabad city and its vicinity, while 300 people were injured. During the Eid holidays last year, as many as 21 people were killed in traffic accidents in and around Faisalabad, while about 350 others were injured.

Most of the injured were young boys involved in one-wheeling, speeding and rash driving.

This year a large number of citizens did not allow their children to go out and the number of people travelling on the roads was also lower due to the coronavirus lockdown situation.

Published in The Express Tribune, June 16th, 2020.