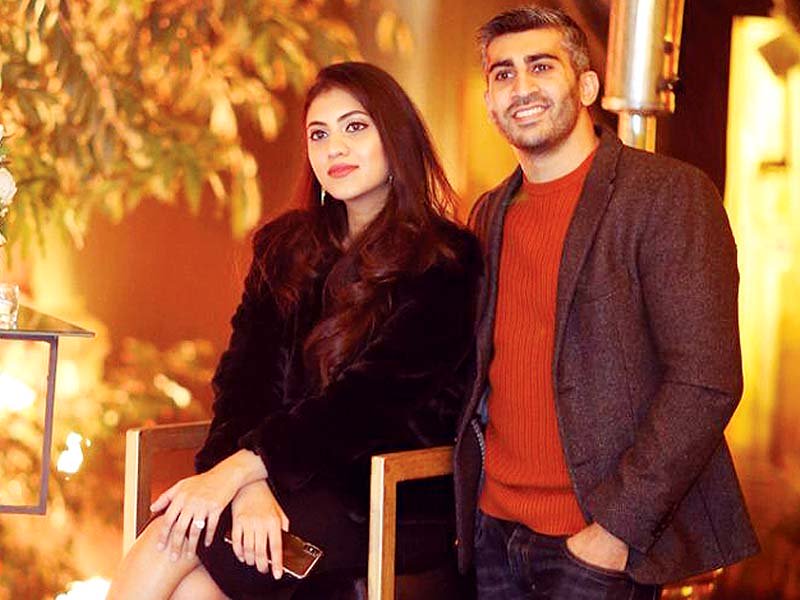 ---
Professional trainer Karam Akhtar and wife Fatima Maroof who is a freelance furniture designer and also has a gift wrapping and packaging business called The Knot, share with us some endearing details of their happily married life. From never ceasing to express affection and always working as a team, this couple has it all figured out.


How and where did you both first meet?

Fatima: Our parents were good friends. My parents hosted a Hajj brunch for them and of course it was love at first sight for him.

Karam: Our families were good friends and her family hosted a big brunch and that's where we talked first.

What did you like/dislike about each other in your first meeting?

Fatima: We barely spoke to be honest.

Karam: Very friendly.

How long did it take to decide that he/she was the one you wanted to marry?

Fatima: A month I guess.

Karam: A few days.. Oops.




How do you demonstrate your love in different ways?

Fatima: Making fun of him is my way of expressing love. I only make fun of people I love.

Karam: I'm not the best with expressing but I surprise her unexpectedly with moments.

What frustrates you most about your partner?

Fatima: Every month he goes through a phase. He becomes annoyed with everything and everyone so he wouldn't speak to anyone unless its absolutely necessary or show any kind of affection. Also he would always ask me what I want to eat but would never like my answer so we always end up eating what he wants to eat.

Karam:  Can never decide where to eat.

Who makes up first if you have a fight or argument?

Fatima: Of course me! Karam can go days without talking. I can't. I need to clear the air. Oops! Another frustrating thing.

Karam: Pretty balanced I'd say.




One thing you love about each other?

Fatima: I love how he treats people. He shows respect to everyone. He has a heart of gold and he might not know that this is one of the reasons I married him. I also love how he's not a typical desi male chauvinist.

Karam: This will come as a surprise to her - but definitely her OCD nature. It's also annoying sometimes. But quite often I'm just smiling underneath too.

Something you would want to change about your partner?

Fatima: Uhhh too many things. Just kidding! I want him to put his mobile phone down and pay more attention when I'm talking.

Karam: Yes, start deciding where to eat.

Something you two have in common?

Fatima: We love working out and we like the same type of TV shows.

Karam: We both love working out and love sushi.

Who keeps the room the tidiest?

Fatima: Me obviously but thank God he's not a dirty guy.

Karam: See the answer to question no. seven and decide for yourself.

Your best memory together so far?

Fatima: I think it would be the birth of our sweet little baby boy Noah. Also when he was born, Karam came and kissed me first before even looking at the baby. That made me so happy.

Karam: Our wedding day and when our child was born.

Your greatest strength as a couple?

Fatima: We respect each other's ideas and beliefs. I always know what he's thinking and more often than not, he knows the same about me. We tell each other what bothers us and try to work on fixing it.

Karam: Trust.
COMMENTS
Comments are moderated and generally will be posted if they are on-topic and not abusive.
For more information, please see our Comments FAQ