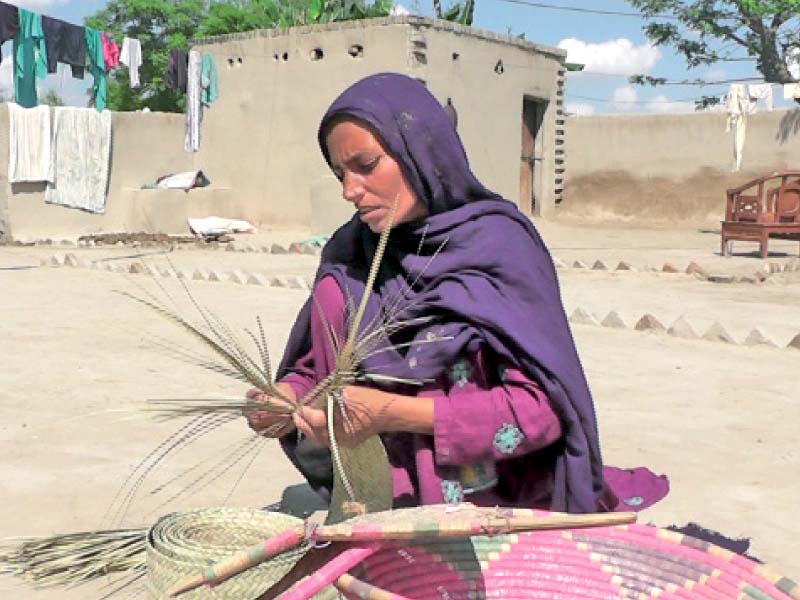 ---
DARYA KHAN: Women in the country are often confined to their houses, but some dare to break through the glass ceiling and join the workforce as breadwinners for their families.

One such woman is Saeeda Bibi, a resident of Bhakkar, who looks after her family through tending domesticated animals and harvesting crops for others.

She does not let her young children work and asks them to focus on their studies. "I always loved studying and my children love it too. They study on their own without any help," she remarked.

Speaking to The Express Tribune, she said her eldest daughter helps her in earning money since her father is unwell.

"She assists me to reap wheat and also makes artificial jewelry from pearls. Pearl sets made of 100 pieces earn her Rs50," the proud mother revealed.

Saeeda said her daughter makes these sets at such a low wage to support the family.

She also explained how the family gets paid for wheat harvesting, "When anyone goes to harvest, they get one sack of wheat for reaping crop over eight kanals of land; the more they harvest, the more wheat sacks they earn as remuneration."

This year, three people from her family, Saeeda and her two daughters participated in the harvest. The earned sacks of wheat were distributed among all the people involved in wheat harvesting by the landowners.

"I sold half of the wheat to buy household essentials and saved the rest for cooking."

Her family is also skilled in making Changair (traditional weaved plate) that are sold in the market for Rs100 to Rs300. In a day, the family weaves at least two of these plates.

In the winter season, these strong women sew quilts to make a living. For this labour intensive work, they only get Rs100 to Rs200.

The highly skilled woman appealed to the government to initiate programmes for women like her who know the work but are employed by others due to the absence of finances to start their own business.

Another hardworking woman, Saman, who has now acquired a bachelor's degree, said she harvests wheat and mung beans with her mother so that they are able to afford education for the rest of her siblings. "I would love to get a better job opportunity to help my family," the young woman said. Though she wishes to continue her studies, the adverse circumstances have disallowed any such liberties.

"My parents worked tirelessly to make ends meet and support my education. I hope I can support them in the future after acquiring a better job," she said hopefully, adding, "For now I sew clothes to help them."

Naseem Bibi, who has been working at a brick kiln along with her husband for the past 12 years, said she leaves the home early to reach her workplace at 9am.

"It is hard to manage house chores and strenuous brick making jobs at a time but we as a family have no other option. If we do not work, we cannot pay for the food and education of our four children," she sadly stated. The couple has to make at least 1,000 bricks to get paid; though the timeframe is not strict, the job is physically challenging and exhausting.

A social worker, Sameera, lauded Saeeda Bibi and Naseem Bibi for their community service.

She told the Express Tribune that the duo helps other women get National Identity Cards by guiding them to the office and also assist them in retrieving funds through the Benazir Income Support Programme.

Published in The Express Tribune, May 22nd, 2020.