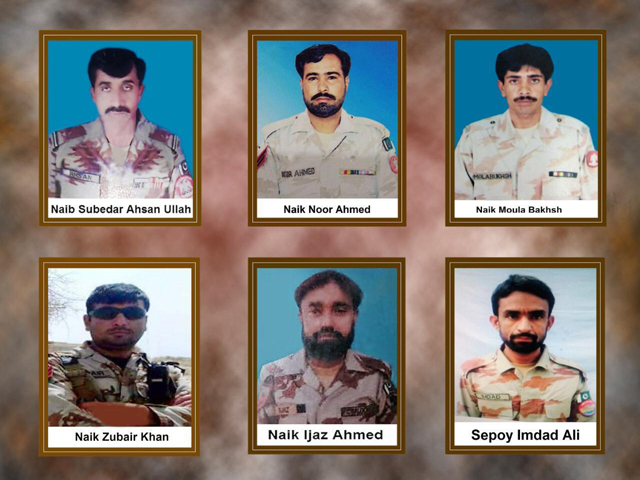 ---
QUETTA: Seven paramilitary troops were martyred in two separate terrorist attacks in Balochistan on Tuesday which took place more than a week after a similar deadly attack on security forces near the Pak-Iran border.

The two deadly attacks on the Frontier Corps (FC) in less than two weeks broke a relatively long lull in terrorist violence in Balochistan, where hostile agencies have been bankrolling and aiding terrorist groups to create instability.

"Six soldiers – including a junior commissioned officer (JCO) – were martyred when the FC patrolling team's reconnaissance vehicle was struck by an improvised explosive device (IED) when it was returning to a base camp in Pir Ghaib, Mach in Balochistan," the Inter-Services Public Relations (ISPR) said in a statement.

"Another soldier was martyred during an exchange of fire with militants in the Mand area of Kech district," the military's media wing added without sharing further details of the two attacks.

The ISPR identified the martyrs of the IED attack as Naib Subedar Ihsanullah Khan, Naik Zubair Khan, Naik Ijaz Ahmed, Naik Maula Bux, Naik Noor Muhammad and driver Abdul Jabbar. The soldier who embraced martyrdom in the firefight was identified as Sepoy Imdad Ali.

No group immediately claimed responsibility for the attacks in Balochistan, where hostile agencies have been using a potpourri of terrorist groups as their proxies to stoke terrorism.

Soldier martyred, two terrorists killed in North Waziristan operation

The deadly attack came 11 days after a similar terrorist assault on FC troops near the Pakistan-Iran border on May 8. Six paramilitary troops, including one officer, were martyred when an IED struck their reconnaissance vehicle in Kech district's Buleda area – 14 kilometres away from the Iran border.

The troops were checking possible routes used by terrorists in the extremely treacherous mountainous terrain of Mekran, the ISPR said at the time.

Soon after that attack, army chief Gen Qamar Javed Bajwa had called his Iranian counterpart, Maj Gen Mohammed Bagheri, to discuss the martyrdom of the Pakistani troops besides an array of issues including border fencing and improvement of border terminals.

"The COAS said that Pakistan has started fencing the border but will require mutual bilateral cooperation to ensure border security and stem smuggling activity which is also used by terrorists and Narco traffickers for covering their movement," the ISPR had said at the time.

After Tuesday's attack, the federal minister for human rights took to Twitter to pay homage to the martyrs.

"Terrorists in Balochistan attack again as 7 more brave soldiers embrace martyrdom. Terrorist outfits coming under increasing pressure as their international isolation increases and Pakistan continues to make gains in its fight against terrorism," Shireen Mazari wrote on the popular microblogging site.

In 2016, a network of India's notorious spy agency, Research and Analysis Wing, or RAW, was smashed in Balochistan when Kulbhushan Jadhav, a serving commander of Indian navy, was arrested after he entered Pakistan from Iran using a fake Muslim identity.

In a subsequent video confession, Jadhav admitted that he had been sent by RAW on a mission to stoke terrorism in different parts of Pakistan, especially in Balochistan and Karachi. Jadhav was sentenced to death by a court in 2017 on espionage and terrorism charges.
COMMENTS
Comments are moderated and generally will be posted if they are on-topic and not abusive.
For more information, please see our Comments FAQ