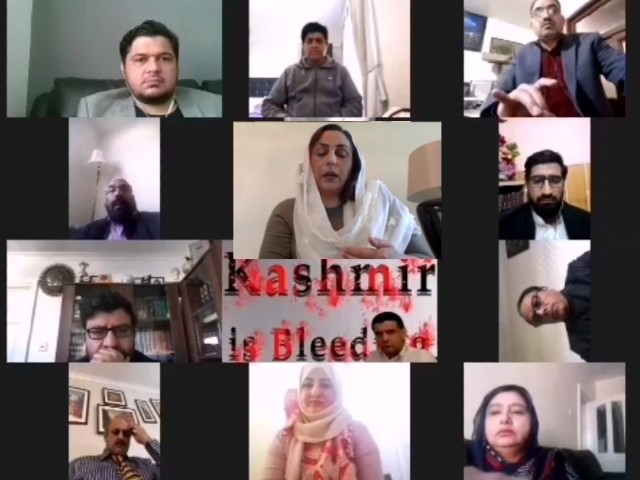 ---
LONDON: While criticising a recent statement of Sir Keir Starmer, Tehreek-e-Kashmir (TeK) UK President Raja Fahim Kayani has said the Labour Party chief was historically wrong about Jammu and Kashmir dispute when he said that it is a constitutional matter of India.

"Kashmir is an issue very much alive on the United Nations agenda even discussed in the Security Council very recently. With this statement, Sir Keir Starmer has made a big mistake and damaged Labour Party. Hope he revisits his position and rectifies his statement," he said while addressing an online all parties conference (APC) organised by TeK UK on Saturday.

Kayani said that 1.5 million voters of Pakistani and Kashmiri heritage were surprised by Starmer's statement wherein he mentioned "Hinduphobia" which is something that does not exist at all, adding that it was very irresponsible statement and a threat to the very fabric of British society.

AJK PM assails UK Labour Party chief for pro-India remarks

TeK UK chief appealed to all Labour Party MPs, councillors and members to contact the party leader and make him correct himself on the history of Kashmir issue.

Participants from other political parties, human rights organisations, women groups and journalists shared the same views as well. Some even suggested leaving the Labour Party as it does not respect the overwhelming vote and support of British Pakistanis and Kashmiris offered to the party.

They said 20 years ago, Labour foreign minister Robin Cook said exactly the same and now it has happened once again.

Labour Party does not realise that this unfinished job of participation was left by them in 1947 and they should make efforts to help implement United Nations resolutions to hold a plebiscite and resolve the Kashmir issue, the participants opined.

However, the majority of speakers in the conference agreed to stay in the party and make efforts to influence the leadership to change their strange stance on Kashmir.

British Kashmiris vow to continue support for 'oppressed people of IOK'

Participants showed their disappointment towards Starmer as being a human rights lawyer how can he show such ignorance towards the rights of people of Indian Occupied Jammu and Kashmir.

All participants condemned Starmer's recent statement and demanded an apology from him. Some speakers demanded his immediate resignation from the party's leadership.

The conference also made an appeal to the whole world to help people of IOJ&K who are facing worst kind of lockdown in the history since August 5, 2019, imposed by the Indian occupation forces.

The conference also showed its grave concern over the current situation in Occupied Kashmir where the Indian Army is busy attacking and killing unarmed people in their homes where they have been living for centuries.
COMMENTS
Comments are moderated and generally will be posted if they are on-topic and not abusive.
For more information, please see our Comments FAQ