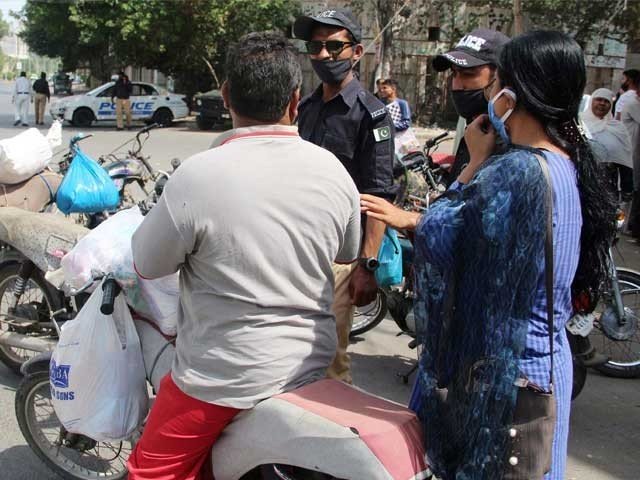 ---
KARACHI: The Sindh High Court (SHC) directed on Wednesday the Sindh government to inform the court about the standard operating procedure (SOPs) regarding the ban on pillion-riding.

A two-member bench, comprising Justice Muhammad Ali Mazhar and Justice Yousuf Ali Sayeed, was hearing the plea against the ban on pillion-riding.

The petitioner argued that the Sindh government had not given the province anything but a lockdown, pointing out that journalists often have to use motorcycles while reporting.

He further claimed that police officials were themselves violating the ban, while collecting bribes from citizens doing the same.

Justice Mazhar asked the additional advocate general if any SOPs applied for police officials when the ban was imposed.

The additional advocate-general maintained that the ban was imposed to control the misuse of pillion-riding.

Irked at the Sindh police and the provincial government, Justice Mazhar remarked that the provincial government should formulate laws that do not inconvenience the common man.

"How would people go to the hospital in case of emergency with a ban on pillion-riding? Has the government placed ambulances outside every house or has it put in place a system where ambulances arrive immediately after a phone call?" he inquired, further asking how many people had contracted coronavirus due to pillion-riding.

Moreover, the judge noted that the ban was openly violated by the police and other law enforcement officials on a daily basis.

The bench directed the relevant government officials to submit the SOPs in court by May 11.

Taking action

Separately, the bench ordered the Malir and Korangi deputy commissioners (DCs) to take immediate action against the cultivation of vegetables with sewerage water on government land.

Moreover, the court sought complete details about the allotment of land on the banks of the Malir River.

Justice Mazhar ordered the DCs to inspect the site at Malir River and dispose of any vegetables cultivated using sewerage water.

The DCs informed the court that action had been taken against the offence.

Advocate Aslam Bhutta maintained that the land had been leased for 30 years.

"Was it leased for cultivating vegetables with sewerage water?" questioned Justice Mazhar.

The court also sought written replies from the parties involved in the cultivation by May 19.

Published in The Express Tribune, May 7th, 2020.