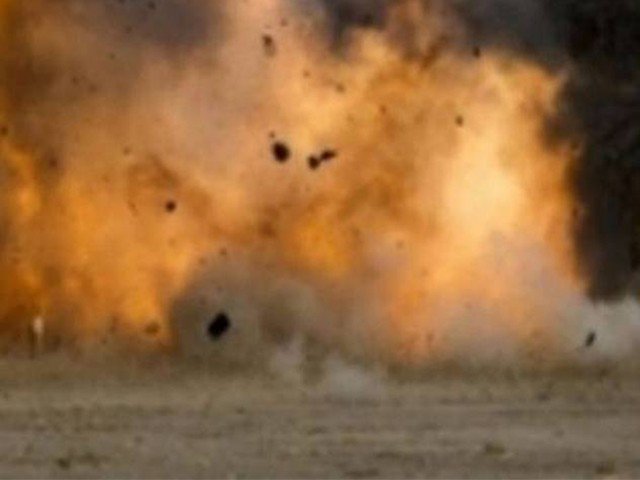 ---
KARACHI: Neighbourhoods in the vicinity of Sunset Boulevard in Defence Housing Authority Phase-II extension jolted under the impact of a resounding mysterious blast, which left two injured, early Tuesday morning. The blast occurred in a bakery located on the ground floor of a two-story residential building.

As doors, windows, sign boards and shutters of nearby shops and buildings uprooted and window panes of close by structures and cars parked within a radius of 500 of the site of the blast shattered under the impact of the explosion, two bystanders out on the street sustained injuries from glass shards.

The injured, who were identified as 17-year-old Naik Muhammad and his brother, Yaar Khan, 29, were shifted to Jinnah Postgraduate Medical Centre for treatment.

Blasts in Afghanistan as feuding leaders hold separate oath ceremonies

According to an eyewitness, the bakery housed a kitchen in the basement, which he said had no gas connection. He claimed, though, that 12 cylinders of the liquefied petroleum gas, which were replenished with gas worth Rs300,000 every month, were kept in the kitchen.

However, a resident of a building adjacent to the bakery also suspected it occurring due to other reasons, saying that a suspicious black car was witnessed parked outside the bakery on the day, which area locals found unusual as they had never seen any vehicle parked at the spot.

A member of the bomb disposal squad, however, said that no evidence suggesting the explosion to be a result of a criminal act was found until then, adding that they were yet to inspect the basement.

Three get death for Wagah border blast

The rubble in the basement had to be clean first, he explained, after which a thorough inspection of would be carried out to ascertain the cause of the blast.

Counter terrorism department in-charge Raja Umar, too, maintained that while the explosion appeared to have taken place due to a gas leak, the possibility of the involvement of criminal elements couldn't be ruled out.

Published in The Express Tribune, April 29th, 2020.