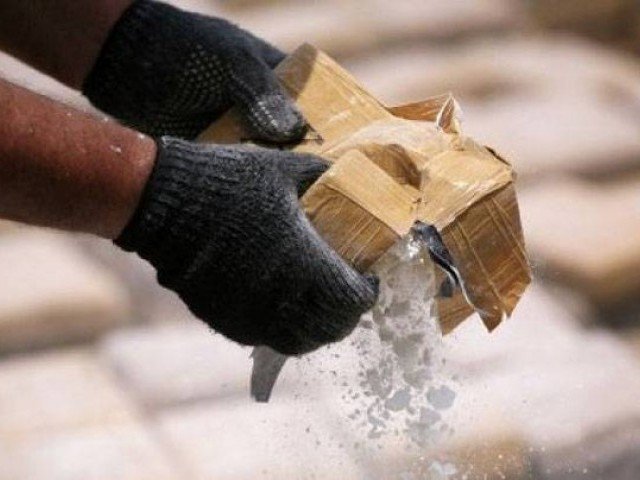 ---
FAISALABAD: For the past one and a half years, more than 600 small and big drug dealers have reportedly been active across the cities who sell hashish and opium in different areas through their network. They mainly sell drugs to the younger generation.

Reportedly, drug trafficking has been at its peak in Faisalabad. After contacting dealers from Peshawar, these drug dealers allegedly pay huge sums of money to officials of various government agencies and drivers in exchange for transporting hashish and opium via buses, ambulances and other vehicles.

The city's police stations including Peoples Colony, Ghulam Mohammadabad, Batala Colony, Mansoorabad, Nishatabad, Millat Town, Saddar, Mansoorabad, Sargodha Road, Razabad and Factory Area are at the top in the sale of drugs in their areas.

In the countryside, more drug trafficking and use has been seen in Achakira, Kokiyanwala, Jhang Road Ada Pansara, Waris Pura, Chak Jhamra and Jaranwala areas.

'Pakistan has effective drug for COVID-19'

Most of the opium is smuggled from Chiniot to Faisalabad and its adjoining areas. Some officials of law enforcement agencies and anti-drug departments are suspected to conniving with the drug dealers.

Examples of these are suspects from the police who were arrested as a result of a strict policy pursued by the higher officials. Police have so far caught red-handed dozens of personnel, including two officers, for drug trafficking and lodged cases against them.

They include Inspector Mian Shafiq, ASI Mian Ejaz, Constable Tajamul, Constable Shakeel and others, while nine policemen are being investigated on suspicion of involvement in the business.

Drug dealers smuggle the drugs brought from Peshawar by hiding them in secret cavities of buses and other vehicles.

Women and children are often used for this purpose and they are made to carry drug packets. A few days ago, a former in-charge of Ali Town post, ASI Hammad Yousuf, arrested a woman who had drug packets tied to her body, while a child was also carrying packets of drugs.

The money is reportedly paid in accounts rather than cash. Officials say a few grammes of hashish is worth about Rs5,000.

In Russia, a black market for HIV drug to try on coronavirus

A drug pusher Gulfam reportedly fled, while five policemen allegedly linked with him were arrested while selling drugs.

When The Express Tribune contacted CPO Captain (retd) Sohail Chaudhry, he said police are taking action against drug traffickers on the strict directives of IG Punjab Shoaib Dastaghir, which has been a great success.

"Police have registered 1,905 cases against drug dealers between December 1, 2019, and April 14, 2020, arrested 1,781 accused and seized more than 25kg of heroin, 934.563 gram of hashish, 18.733kg of opium, 8.56kg of bhang, 53,830 litres of liquor and 16 kilns of alcohol from their possession," he said.

He maintained that if police personnel were involved in such activities, cases were also lodged against them. Now steps are underway to dismiss them from their jobs, he added.

Published in The Express Tribune, April 21st, 2020.