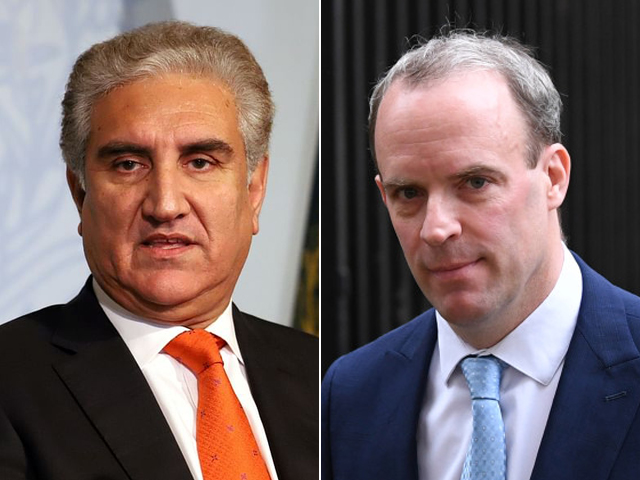 ---
ISLAMABAD: Foreign Minister Shah Mahmood Qureshi has asked his British counterpart Dominic Raab to forward the suggestion of Prime Minister Imran Khan to provide relief to developing nations regarding loans' repayment to the G-20 nations in the wake of the novel coronavirus pandemic.

During a telephonic conversation on Tuesday, Qureshi told Raab that Premier Imran has given the suggestion for loan restructuring so that the developing countries could utilise their resources to deal with the global pandemic and save precious human lives.

"The developed countries are finding this coronavirus challenge difficult to overcome as it has engulfed the entire world," Qureshi said. "Keeping these circumstances in mind, Imran has appealed to the developed countries to provide relief to the developing countries where loan repayment is concerned," Qureshi added.

The foreign minister said he expected that Britain – an important and active member of the G-20 – would forward the suggestion.

PM Imran wishes Boris Johnson speedy recovery from COVID-19

Raab welcomed the suggestion regarding restructuring of the loans.

During the conversation, Qureshi congratulated Raab on Prime Minister Boris Johnson being discharged from the hospital where he was being treated for the novel coronavirus and prayed for his early recovery.

Qureshi lauded the efforts of the British foreign secretary in controlling the global pandemic from spreading during the absence of Prime Minister Johnson.

The foreign minister expressed solidarity and sorrow with the British government and its people over the loss of precious lives during the pandemic.

"All over the world, including Britain, the paramedics are putting their lives at risk while treating the coronavirus patients," Qureshi said, praising the role of doctors and the paramedics.

Both the foreign minister and his counterpart exchanged views over bringing back their respective nationals stranded in other countries.

Qureshi apprised Raab that Pakistan had repatriated 7,734 British nationals through 23 special flights of the Pakistan International Airlines and the remaining Brits would be repatriated soon.

The British foreign secretary thanked the government of Pakistan and the foreign minister over the repatriation of British nationals.

Raab requested sending chartered flights to take back the remaining British nationals in Pakistan. Qureshi assured of all possible cooperation in the matter.

Both the dignitaries agreed to continue consultations to deal with the challenge of coronavirus effectively.
COMMENTS
Comments are moderated and generally will be posted if they are on-topic and not abusive.
For more information, please see our Comments FAQ