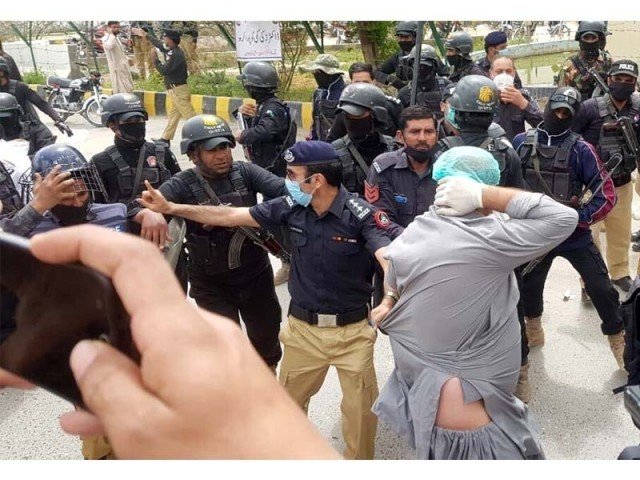 ---
QUETTA: Doctors in the provincial capital refused to work on Tuesday after yesterday's clash with police.

On Monday, police used excessive force to break up a protest by the Young Doctor's Association (YDA) in Quetta. The healthcare professionals were protesting against the lack of protective gear in the hospitals as the country deals with the coronavirus pandemic.



Almost 100 doctors spent the night in jail despite orders for their release. Talks between the doctors and provincial ministers failed as doctors demanded stern action against those involved in yesterday's incident.

"There will be no dialogue till the time action is taken against the police officials who tortured the doctors and the provincial health minister is suspended," said the YDA.

The association also said that the government has failed to curtail the spread of the virus. Doctors further said they have stopped performing duties in government hospital's labour, accident and emergency rooms and wards

On April 6, police officials stopped protesting doctors marching towards the Chief Minister House in the provincial capital.

Cops clash with protesting doctors in Quetta

The protesters said the government had failed to deliver promised supplies. Hundreds of doctors and paramedics took part in the protest, chanting slogans in favour of their demands when police tried to stop their march.

Police used batons to disperse the protesters, causing injuries to some marchers. They also arrested 100 protesters, including YDA office-bearers Dr Hanif Luni, Yasir Achakzai, paramedic Jamal Shah Kakar and others.

However, a senior police official told Reuters news agency that 30 protesters had been arrested for defying a ban on public gatherings imposed during a lockdown to fight the spread of the virus.