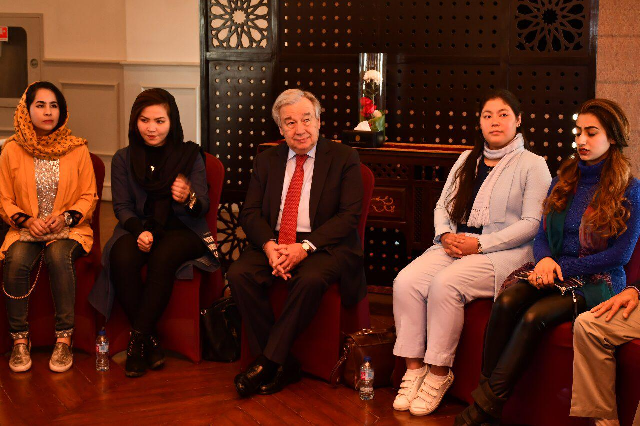 ---
ISLAMABAD: United Nations Secretary General Antonio Guterres has urged the world to show similar leadership as Pakistan has shown in standing with refugees.

"For 40 years, Pakistan has sheltered Afghan refugees," he wrote. "I urge the world to support host countries and show similar leadership in standing with the refugees."

The UN chief arrived in Islamabad early Sunday for a conference the United Nations says will "send a global reminder about the fate of millions of Afghans living as refugees".

Pakistan, in collaboration with the UNHCR, is organising the international conference on February 17 and 18 to mark the 40-year-long stay of hundreds of thousands of Afghan refugees in the country.


My first meeting in Pakistan: generations of Afghan refugees shared their deeply moving stories, hopes & dreams.

For 40 years, Pakistan has sheltered Afghan refugees. I urge the world to support host countries and show similar leadership in standing #WithRefugees. pic.twitter.com/rc4e75qNw9

— António Guterres (@antonioguterres) February 16, 2020


Pakistan is one of the largest refugee-hosting nations in the world, home to an estimated 2.4 million registered and undocumented people who have fled Afghanistan, some as far back as the Soviet invasion of 1979.

Many live in camps, while others have built lives for themselves in Pakistan's cities, paying rent and contributing to the economy.

Meeting with refugees




Recognising Pakistan's hospitality for displaced people, Guterres began his four-day official visit by meeting refugees from Afghanistan, Yemen and Tajikistan.

In his meeting with the refugees' representatives, the UN secretary general appreciated Islamabad's generosity for providing opportunities to millions of refugees.

"Pakistan is full of hospitality and particularly people of Pakistan and hospitality for Afghanistan refugees," he said and thanked the country for hosting Afghan refugees for "such a long time".

The representatives of refugees told Gutteres that some of them were born here as they appreciated Pakistan for granting shelter those forced to flee their homes.

Special talk on Sustainable Development and Climate Change



Addressing a special talk on Sustainable Development and Climate Change, Guterres urged world leaders to act on climate change before it is too late.

"Our planet is burning," said the secretary-general.

He cautioned that climate crisis is the biggest conflict that the world has had to face. Warning that with only 10 years left to meet the deadline of the sustainable development goals, he stressed on the need to step up and take action immediately.

The secretary-general also maintained that the SDG cover a whole spectrum of human progress, including poverty, hunger, inequality and health, adding that they deal with climate change, promote justice and allow strong institutions to progress sustainably.

Guterres lauded Pakistani's efforts to eradicate poverty and emphasised Prime Minister Imran Khan-led government's Kamiyab Jawan Programme that promised 10 million jobs for youth in five years' time under its Ehsaas initiative.

The UN chief said Pakistan was facing a number of problems including the fight against polio, HIV, environmental degradation and gender inequality amongst others.

On the issue of Kashmir, Guterres said India should respect human rights. He cited United Nations Human Rights Council (UNHRC) reports to stress upon the situation in Indian Occupied Jammu and Kashmir.

Other activities

In other engagements, Guterrers will address a joint press conference with Foreign Minister Shah Mehmood Qureshi in the evening. The UN chief will also call on President Dr Arif Alvi and Prime Minister Imran Khan. He will also pay a visit to Lahore and Gurdwara Kartarpur Saheb in Narowal district.