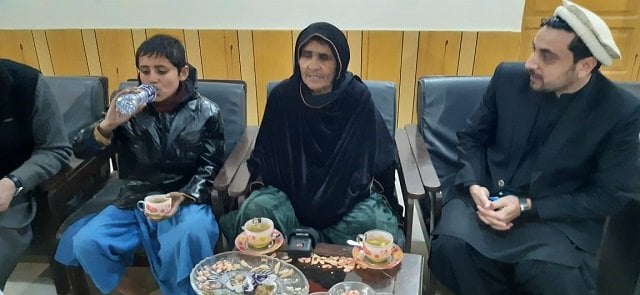 ---
PESHAWAR: While taking notice of a news report published in Daily Express, the government on Thursday allowed some family members of a four-year-old Afghan girl being treated at a Peshawar hospital to come to Pakistan.

The grandmother of Kainat, along with other family members, entered into Pakistan through the Torkham border crossing.
Assistant Commissioner Imran, MPA Shafiq Sher and social worker Islam Bacha warmly welcomed the family and brought them to Peshawar in the Pakistan army's vehicles.

Emotional scenes were witnessed when the family met the girl at the hospital.

Pakistan reopens Torkham border after temporary closure

The girl's grandmother, Syed Maro Taror, and cousin Wasil Khan thanked the Pakistan government and said that in this moment of hardship, Pakistan won the hearts of the Afghans. They also thanked the Pakistani people and the government for the treatment of Kainat.

Islam Bacha, who helped raise the issue on social media, said that soon the mother of Kainat would also come to Pakistan to see her ailing daughter.