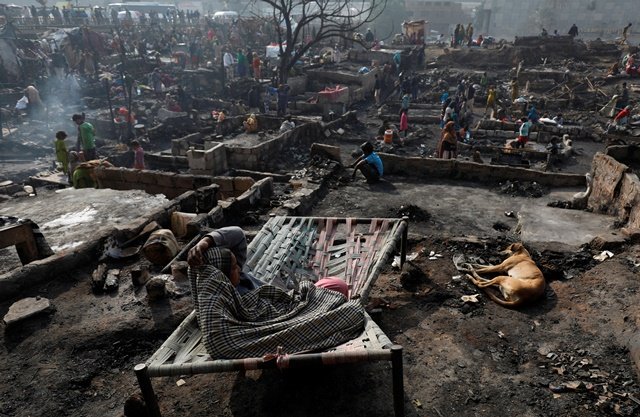 ---
KARACHI:
A massive fire that erupted on late Tuesday night engulfed more than 200 shanties in slums near Teen Hatti area which resides more than 450 people.

All the belongings in the shanties burned to ashes, however, no casualties had been reported as of yet.




"Fire has left us with no roof over our heads," the victims decry. "Where will we go with our children in this cold weather?"

The residents tried to salvage their belongings from the fire but to no avail.




Disaster in the making: The sordid tale of Karachi Fire Brigade

In the port city, there is is one fire station for every 100,000 citizens, equipped with four fire tenders and staffed with over 50 operational personnel working round the clock in shifts.

Each shift would have at least 16 firefighters, eight drivers, four leading firemen, two sub fire officers and, of course, one station officer, on-call and ready to go.




If the city of 20 million people was to comply with international standards, it would have had 200 fully functioning fire brigade stations staffed with more than 10,000 personnel.

The dilapidated state of Karachi's firefighting mechanism is especially alarming considering the city's urban landscape. With two ports, seven industrial zones and several densely packed residential areas and slums, fire hazards in the metropolis are manifold.

Running on empty: Fuel supply suspension compounds Karachi fire dept's woes

Lack of planning and negligence on the part of the Sindh Building Control Authority (SBCA) and other government wings has resulted in a concrete jungle of high-rises, none of which have adequate fire safety and evacuation facilities, they said.




The absence of a fire safety code means many buildings operate without fire escapes and basic fire-extinguishing apparatus. As a result, an effective fire brigade is the only other option for the city to ward off a massive fire disaster.
COMMENTS
Comments are moderated and generally will be posted if they are on-topic and not abusive.
For more information, please see our Comments FAQ