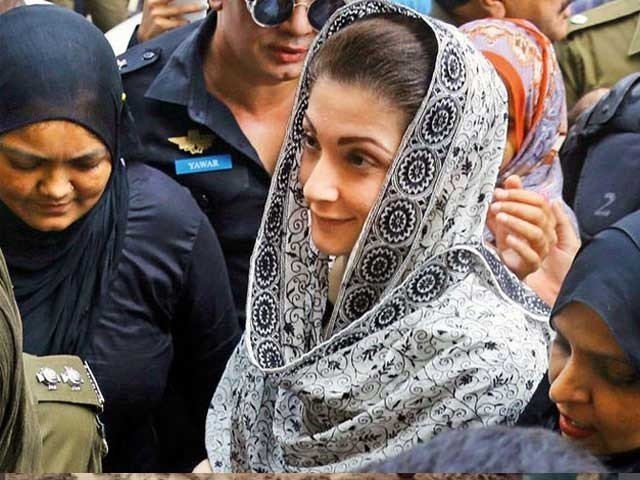 ---
LAHORE: The Lahore High Court (LHC) has allowed a civil miscellaneous application filed by Maryam Nawaz for making her father Nawaz Sharif's medical reports a part of the main petition seeking removal of her name from the no-fly list.

An LHC division bench – headed by Justice Tariq Abbasi – adjourned the proceedings until the first week of February in order to provide Maryam's counsels time for preparation on a reply submitted by the federal government to explain why it took such a long time to issue directions over her ECL matter.

As the proceedings commenced, Justice Abbasi asked Maryam's counsels "what do you want".

Advocate Amjad Pervez replied that they want Maryam to be allowed to go abroad to visit her ailing father as she had already lost her mother.

"Is no one there to attend to Nawaz Sharif? Are there no relatives for this purpose?" Justice Tariq asked.

"Maryam is [the only one] very close to her father and his [Nawaz's] health is deteriorating," the counsels replied.

PML-N hopeful of an in-house change soon

Additional Attorney General Ishtiaq A Khan told the court that the federal government had submitted a reply on the ECL matter.

Advocate Azam Nazir Tarar replied they had not received anything.

The bench adjourned the proceedings until the first week of February to provide time to Maryam's counsels to prepare a reply.

Maryam in her petition told the court that the then division bench had directed the federal government to decide her ECL matter within seven days but nothing had been done by the federal government despite the then bench's clear directions.

In December, PML-N Vice President Maryam Nawaz had knocked the doors of the LHC seeking one-time permission to travel abroad for six weeks on a plea that her father "Nawaz Sharif's health is critical and she is under unexplainable stress and strain due to her inability to be with him in this hour of need of extra care".

She implored the court that her "father is much dependent on her and has special association, love and affection for her".

She further requested the court to direct the deputy registrar (judicial) to return her passport deposited with him in compliance with the order of the LHC.

Moreover, direction also be passed to the concerned quarters to remove her name from the Exit Control List.

She implored that her mother Kulsoom Nawaz had expired leaving the petitioner and her father grieved with everlasting guilt of having not been able to attend to her during the period of her critical condition.

Maryam Nawaz made the federal government, director Federal Investigation Agency (Immigration), Chairman NAB, and others respondents in her petition filed under Article 199 of Constitution of Islamic Republic of Pakistan 1973.