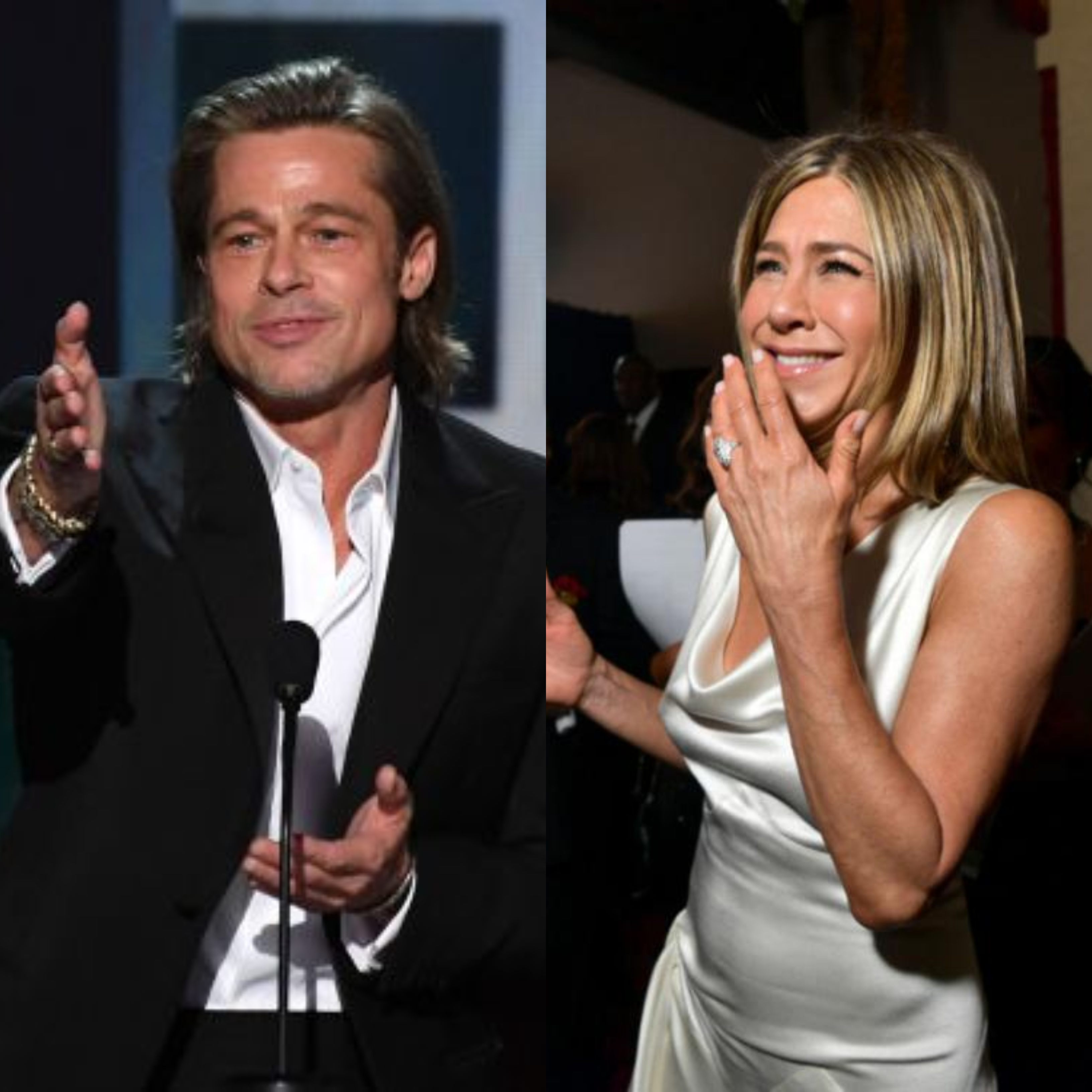 ---
Brad Pitt brought the house down at the SAG awards on Sunday by mocking his marriage with his ex-wife Angelina Jolie before hitting the dance floor with his other ex-wife, Jennifer Aniston.

The two were spotted locking eyes and linking hands in backstage pictures that have Hollywood convinced there still might be some chemistry between the two, reported Fox News.

The prospect of a reunion between Pitt and Aniston remains a heated debate not just for their fans but even the most casual consumers of Hollywood gossip.

https://www.instagram.com/p/B7iqjhcnTdn/

The blonde duo were once America's sweethearts, married for five years, before Pitt had an affair with Jolie on the sets of their film Mr and Mrs Smith.

https://twitter.com/90srandomstuff/status/1215006322216833024

Jolie and Pitt then posed for an iconic set of "Happy Family" pictures in W Magazine. Pitt was subsequently with Jolie for 12 years before a poisonous break-up in September 2016 wherein Jolie accused him of being a drug addict. The star subsequently admitted himself to rehab programmes.

But it was Pitt's acceptance speech for his part in Once Upon a Time in Hollywood that brought his troubled romantic past back to the forefront once again. "It was a difficult part... a guy who takes his shirt off, gets high and doesn't get on with his wife. It was a big stretch, big," he said, referring to his relationship with Jolie.


These are the pop culture moments we live and wait for! #BradPitt and #JenniferAniston supporting each other and sharing a moment at the #SAGAwards! 😍👏🏾❤️ pic.twitter.com/wdkLmUPmKt

— M. L. (@untrell92) January 20, 2020
?

What made it seem like even more like rubbing salt in Jolie's wounds, Aniston was seen laughing and clapping as Pitt made the apparent dig at the Maleficient star.

Brad Pitt, Jennifer Aniston's reunion at the SAG awards get Twitter roaring in excitement

Pitt was also seen glued to a screen backstage as Aniston won a prize for her role in The Morning Show, appearing to say, "Oh wow," as she sashayed up to the podium in a hip-hugging white satin Christian Dior slip dress.


Brad Pitt watching Jennifer Aniston win her award has us dead? Dying? Done? #SAGAwards pic.twitter.com/0va14ZoNn8

— Entertainment Tonight (@etnow) January 20, 2020


In recent years, Pitt and Aniston have grown close again, breaking the internet in 2019 when the Friends star invited her ex-husband to a lavish 50th birthday party.

However, on the way to the event, Aniston was quick to deny any sparks, telling Entertainment Tonight, "It's hysterical. But what else are they going to talk about?"

Later in the evening, the doe-eyed pair were spotted on the dance floor, and a post of them on the E! News Instagram account was liked by hundreds of thousands of fans and friends, including Aniston's former Friends co-star Courtney Cox.

Watch Pitt's full SAG Awards speech here: 

Have something to add to the story? Share it in the comments below.
COMMENTS
Comments are moderated and generally will be posted if they are on-topic and not abusive.
For more information, please see our Comments FAQ