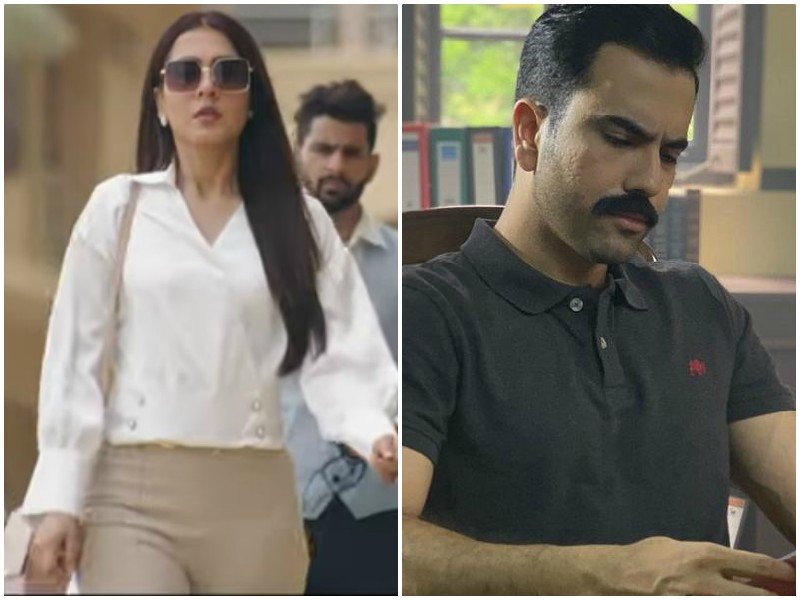 ---
Mansha Pasha and Junaid Khan's much awaited film Kahay Dil Jidher just launched its teaser. By the looks of it, the film tells a story of the lives of college friends who have gone their separate ways, which intertwine once more, in conflict, due to the contrasting nature of their professions.

The titular characters are played by Mansha and Junaid who were last seen together in the television drama Dil-e-Beqarar. Mansha plays the role of a self-righteous journalist and news anchor who wants create a positive impact on society.


Speaking about her upcoming film, Mansha told The Express Tribune, "Its a commercial film about friends who grow into different people than they thought they would become. But in time come together. It's a fun watch with a good message at the core." Shedding more light on her role, the actor added, "I play a news anchor in the film and it is different from anything I've done so far and was a great learning experience".

On the other hand, Junaid plays an honest police officer that is seen to employ unorthodox means to reach his end. Donning a mustache, which is very much synonymous with the archetypal depictions of police officers in South Asian cinema, Junaid's character resembles very much that of Salman Khan and Ajay Devgn in Dabaang and Singham, respectively.

The two friends are seen at odds with one another, with Mansha's character - like any other dutiful reporter - is on a crusade to highlight institutional corruption which the police department is accused of. This would naturally stir conflict between the two characters making it an exciting watch.

Kahay Dil Jidher is also Junaid's debut on the big screen as a leading man. The Call singer who starred in a string of television dramas in the past decade has never been featured in a film aside from a cameo in Bin Roye. Earlier, he had said, "It's too early to give out too much details on the project, however, I can say that I have been offered a lot of films since my cameo appearance in Bin Roye in 2014 and only signed the dotted line on  Kahay Dil Jidher as the story is extremely strong, and the team including my co-star Mansha and director Jalal are professionals, who know and understand the craft."

Talking about the character he will be essaying, he shared, "I am playing the character of a policeman, and the film holds a strong message about the issues that plague our society. I was waiting for the right team and a good script to work with. So finally took the leap of faith and decided to cross over to the big screen."

In a recent interview with Masala, Junaid also discussed his aspirations for the world of cinema. "I would love to do an action film. Most men are like me. They want to see themselves as a masculine one. So we men are insecure like that. Insecurity to some extent is required because it's your driving force," he commented. "If you're insecure about your physique, only then you'll hit the gym. So if you're insecure about a certain job, only then will you try to progress and try to be stronger. So insecurity to a level is required. So yeah, I would love to do an action film." Perhaps playing a cop who doesn't shy away from violent means to serve justice is a step in the right direction for the rockstar.

Kahay Dil Jidher also stars Kamran Bari who plays the role of a musician shown to have succumbed to substance abuse, Roma Michael, Atiqa Odho and Sajid Hasan. The film is directed by Jalal Roomi and produced under the banner of Wijdaan Films.

Have something to add to the story? Share in the comments below.