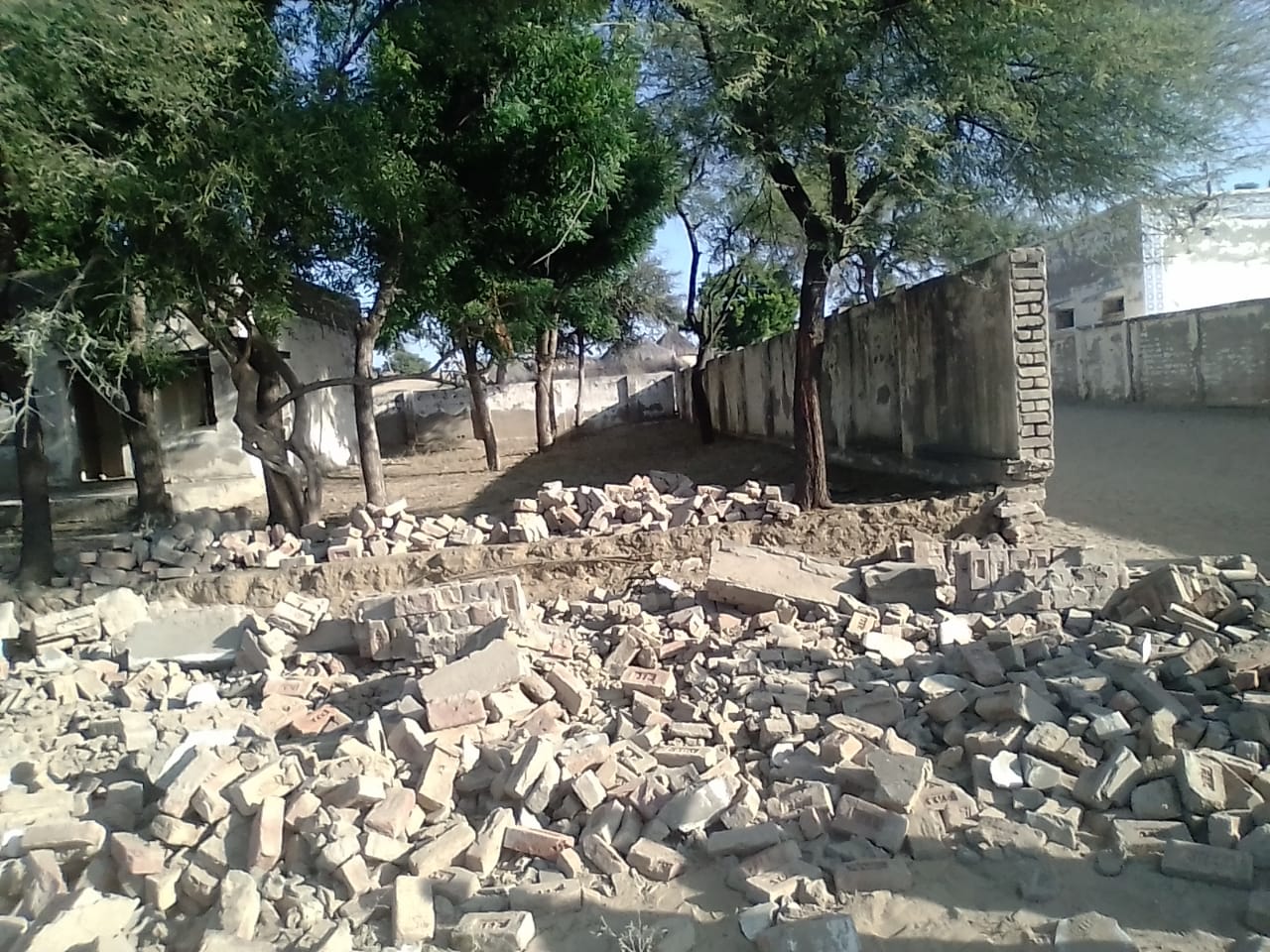 ---
KARACHI: /Three children were crushed to death when the dilapidated wall of a primary school collapsed on them in Bhoro Sand village in Tharparkar district.

Over a dozen children, returning home from a madrassa, were playing when the 30-foot-long wall of the village's Government Primary School came down on them. Three amongst them, including a sister and brother, died on the spot. The deceased were identified as six-year-old Ambreen, daughter of Gul Hasan Arisar, and Muqeema, 5, and Ali Raza, 4, both of whom were the children of Ali Muhammad Arisar.

Speaking to The Express Tribune, villagers said that the entire community rushed to the spot to rescue the children trapped under the debris. "They had already passed away by the time we got there," said Imam Arisar, one of the villagers.

Wall collapse kills 17 in India

Mentioning that the incident took place on Thursday evening, Imam lamented the fact that they were unable to save the children. "They were so young, they died on the spot," he said. The bodies were not transported to any hospital, and were buried following the funeral bath.

Quoting Ali Muhammad, Imam said it was Ali Raza's first day at the madrassa. "His sister Muqeema also just joined the madrassa last week," he added. "The poor family is in shock over their irreversible loss."

A lack of facilities

Bhoro Sand, located in Satti Dera union council, is around 50 kilometres from Nagarparkar city and about 80 kilometres from Umerkot city. It is home to nearly 2,000 families - with no medical facilities nearby to deal with any emergencies.

"There is no hospital around," said Imam. "Where would we go with their bodies?"

The village's primary school, which consists of a single room, has also been non-functional for the last four years. Its students were shifted to the Government Middle School located in the next street.

On Friday, unable to bear the thought of another similar incident, the villagers decided to bulldoze the remaining part of the primary school's wall. "The education department was well-aware of the condition of the school building and its boundary wall," asserted Imam. "They visited several times but never took any action to reconstruct or repair it." He said that the building itself was unsafe, adding that the villagers had decided in a meeting to appeal to the Sindh education department to bulldoze it immediately.




No lessons learnt

This is not the first time a tragedy like this has occurred. Three months ago, part of a school building in Saendada Samoon village, in Golarchi taluka, collapsed and left 10-year-old Nasrullah Samoon dead.

In a letter to the Sindh education department, Samoon's older brother Zulfiqar had pointed out that there were several derelict school buildings across the province that needed the authorities' immediate attention.

"I lost my younger brother. Our family received no justice," said Zulfiqar, asking for the officials involved in such negligence to be held responsible.

At least three killed as building collapses in Sukkur

"Haven't you ever heard of students getting injured when parts of their school buildings cave in? It is a common occurrence," said an official of the education department when contacted by The Express Tribune.

He said that there were hundreds of unsafe school buildings across the province. "Believe me, there are schools that should be demolished immediately, but unfortunately students and teachers put their lives at risk and spend hours every day in them," he stated, claiming that due to political involvement, contractors often use substandard construction materials to build schools.

No government officials had taken notice of the incident in Bhoro Saand until the filing of this report.

Published in The Express Tribune, January 11th, 2020.
COMMENTS
Comments are moderated and generally will be posted if they are on-topic and not abusive.
For more information, please see our Comments FAQ