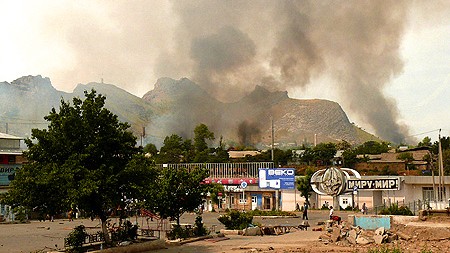 ---
BISHKEK: At least 117 people have been killed and more than 1,485 wounded in spiralling ethnic violence in the south of the ex-Soviet state of Kyrgyzstan, the health ministry said on Monday.

The previous death toll stood at 113. "The death toll in the Jalalabad and Osh regions has reached 117 people" since Thursday in running street battles between ethnic Kyrgyz and Uzbeks, the ministry said. Another 1,485 have been wounded in the violence, it added.

The clashes appeared to pit ethnic Kyrgyz against Uzbeks and officials in neighboring Uzbekistan said tens of thousands of Uzbek refugees from Kyrgyzstan had fled across the border into Uzbekistan to escape the violence.

Some officials put the number at over 100,000. The provisional Kyrgyz government, which seized power in April riots, has so far failed to quell the violence.

It has given shoot-to-kill orders to police and military and called up all reservists in its efforts to stem bloodshed but is also begging for military help from Russia amid the spiralling violence.
COMMENTS
Comments are moderated and generally will be posted if they are on-topic and not abusive.
For more information, please see our Comments FAQ