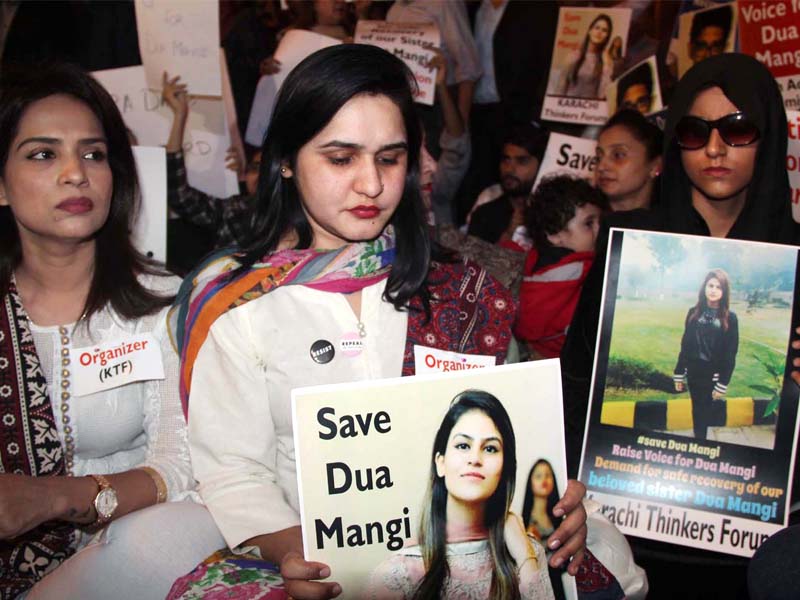 ---
KARACHI: Hundreds of people gathered near Karachi's Teen Talwar on Tuesday evening to protest the kidnapping of Dua Mangi, who was abducted by unidentified persons from Bukhari Commercial Area in Defence Housing Authority (DHA) on Saturday night.

Dua's friend, Haris Fatah, who was with her at the time of abduction, was shot for putting up resistance.

The protesters – including students, members of civil society, political leaders and friends and family of the kidnapped woman – held placards and shouted slogans, demanding her immediate recovery and justice for her family.

DHA kidnapping case: Police suspect kidnappers were 'hired guns'

Accompanied by several family members of the kidnapped woman, who sat in middle of the road, the charged protesters blocked one side of the road in front of the Hilal-e-Ahmar House, with the area cordoned off by a large contingent of police.

The demonstrators lambasted the law enforcement agencies and the government for their perceived inaction over the issue and delays in the investigation, warning that if Dua wasn't recovered soon, they would launch a protest movement across the province.




"The troubles of political leaders pale before that of an individual," said renowned playwright and novelist, Noorul Huda Shah, who was at the protest site. "Politicians must set aside their problems and aid this family in their time of need," she added.

Dr Farooq Sattar, former leader of the Muttahida Qaumi Movement (MQM), lamented that over the last 12 years of its rule in Sindh, the Pakistan Peoples Party (PPP) has failed to maintain law and order in the province. "Kidnapping cases have become a norm," he said, adding, "However, the youth has come out on the streets and it is an indication of the changing times."

Civil activist, Sindhu Nawaz Ghanghro, who was one of the brains behind the demonstration, remarked that it was a slap on the face of the government that a young woman was kidnapped from a posh area, even with all the snap checking and tight security.

"The fact that she hasn't been recovered in so many days is a failure on the part of the law enforcement agencies," Ghanghro said.

Meanwhile, Naeem Mangi, Dua's uncle, told The Express Tribune that both of Dua's parents are in shock and couldn't make it to the protest due to ill health.

As he spoke, several people gathered around the Dua's family to console them and express solidarity with them.
COMMENTS
Comments are moderated and generally will be posted if they are on-topic and not abusive.
For more information, please see our Comments FAQ