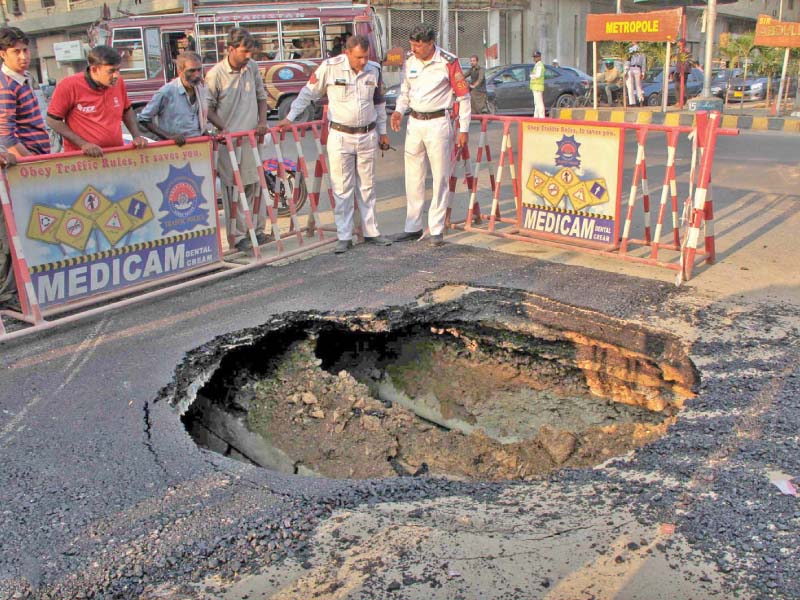 ---
KARACHI: A part of the Club Road near Metropole Hotel caved in again on Saturday evening soon after it was done being carpeted.

Commuters started capturing photos and shouting slogans against the performance of the city government. "They can't even fix a part of the road," commented a passerby while uploading photos of the site on social media. "It took more than two weeks but it has caved in again."

On November 4, a mini truck toppled over at the same spot when a section of the road caved in, disrupting the flow of traffic and bringing the city's crumbling infrastructure into the limelight. The road has been closed for traffic since November 4. Officials of the Karachi Water and Sewerage Board (KWSB) had said that the sinkhole had formed because of the collapse of a 54-inch sewerage line laid under the road. They said that the sewerage line was at least five decades old.

They had claimed that the repair work would hardly take up to three days.

On Saturday, the road was being carpeted and the same part caved in as the engineer and workers were finalising the other corner of the road.

"Was there any fault in the line under the ground," questioned a passerby. He believed that the engineering department of the city government miserably failed to fix even minor issues. A traffic official deployed on the road asked the commuters to keep a distance from the site as it could cave in further. The confused staff of KWSB kept a distance from the site until people stopped making videos and capturing photos of the destruction.

An official on the site on the condition of anonymity told The Express Tribune that there was pressure over them to finish the task on urgent basis. "I think we have to fix the issue once forever," he said, adding that it will take one more week to repair the line and carpet the road.

Asadullah Khan the Managing Director of the KWSB, was approached several times to comment on the recent collapse of Club Road but he was not available to comment.

Published in The Express Tribune, November 17th, 2019.
COMMENTS
Comments are moderated and generally will be posted if they are on-topic and not abusive.
For more information, please see our Comments FAQ