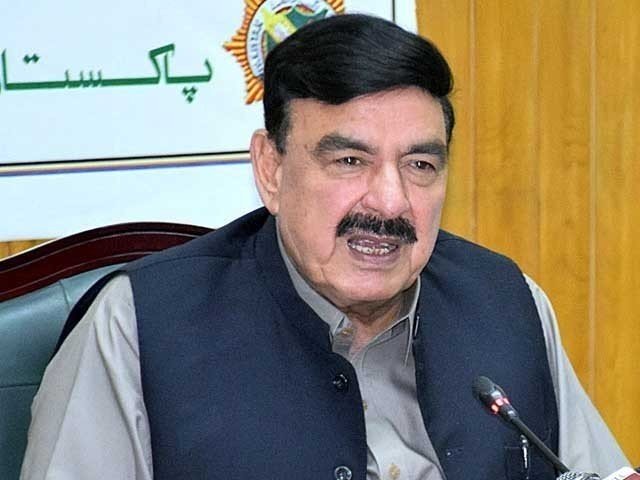 ---
ISLAMABAD: Railways Minister Sheikh Rashid on Wednesday said former premier Nawaz Sharif should fulfil the legal requirements for travelling abroad.

"The [federal] cabinet has unanimously decided that Nawaz Sharif should be allowed to fly abroad after he fulfills the legal requirements," he told the media.

The minister said he was unaware of whether such relief would be granted to former president and PPP co-chairman Asif Ali Zardari or not. "However, the government is in talks with Zardari's colleagues.

He might be able to leave if he hands over some money," he added, hinting at a possible deal.

'My resignation is no issue': Sheikh Rashid says injured have admitted their mistake

Speaking on the Jamiat Ulema-e-Islam-Fazl's (JUI-F) 'Azadi March', Rashid said party's chief Maulana Fazlur Rehman should only test the participants of the protest to the extent where they would be able to bear it.

"Blocking roads is not the clerics' job and reflects some other agenda," he maintained.

Updating the media about the recent Tezgam Express inferno, the minister said Railways had suspended 15 employees found guilty of negligence in the incident.

He added that an additional amount of Rs1 million for the families of each person killed in the train fire had been approved.
"Each family will be now compensated with an amount of Rs2.5 million instead of Rs1.5 million."

Earlier, a meeting of the National Assembly's Standing Committee on Railways was presided over by Muhammad Moeen Wattoo.

The Railways CEO told the participants of the meeting that the fire in Tezgam Express initially broke out in coach number four and spread to two other coaches. He added that the train bogies did not carry fire extinguishers and the train had come to a halt after the chain was pulled. The official further said the inquiry into the train fire would be completed by November 15.

Rashid told the participants of the meeting that railway employees were also at fault and that was why 15 of them had been suspended.

Rashid finding fault with passengers in Tezgam inferno draws flak

He said some passengers resorted to violence when their stoves were seized. "Many people conceal their stoves or cylinders under their seats. Members of the Tablighi Jamaat are not allowed to carry cylinders inside trains," he added.

The minister said that railway services are being offered to an additional eight million passengers while 138 trains were running.
The committee's chairman asked the railways authorities to take more precautionary measures.

On the issue of land leased by the railways, Rashid said almost 99% of land details had been computerised. "We cannot lease land to anyone for a period of over five years," he added.