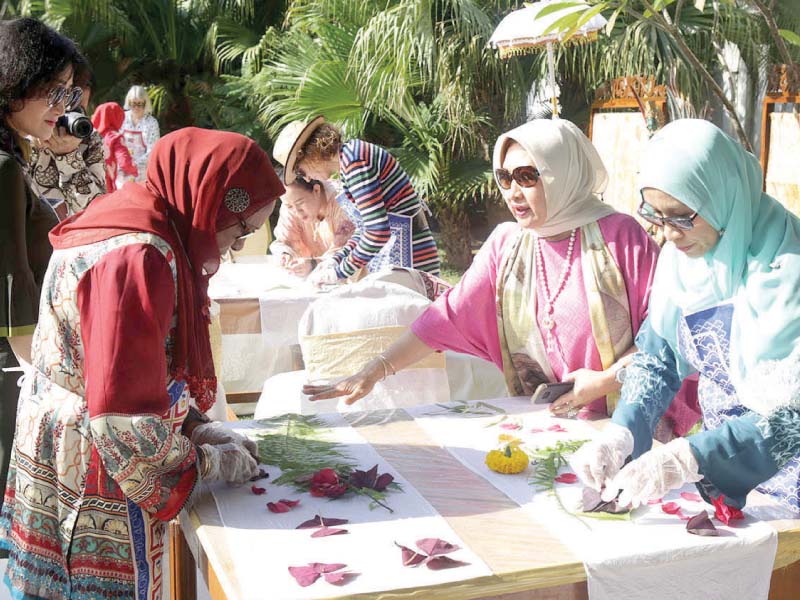 ---
ISLAMABAD: Residents of the federal capital were treated to the history and philosophy behind one of Indonesia's most prominent cultural symbol, Batik, as the wife of the envoy held a special workshop at her residence.

Indonesian ambassador's spouse Rita Berlinia Amri hosted a lively coffee morning on Monday and a Batik workshop.

The event provided guests with an opportunity to understand Indonesia's diverse culture and its philosophical, cultural and historical values through its signature textile printing form of 'Batik'.

The host warmly welcomed the guests, comprising spouses of other ambassadors and heads of diplomatic missions, turned up in big numbers for the workshop.

Amri said that Batik was intended to take the participants on a trip to explore and experience Indonesia's rich and diverse art and cultural heritage.

She also informed that Batik is increasingly becoming popular across the world and has been added to the Representative List of UNESCO's World Intangible Cultural Heritage by recognizing Indonesia as the origin and home to this exclusive art form.

To conduct the workshop, the embassy invited batik maestros Fonna Melania Djuwaeni, Ulfah Yulaifah and Andri Purbawiana from the Sukabumi Region of Java to showcase and share some basics of the wonderful ancient art form with the enthusiastic participants.

Djuwaeni and her team specialise in botanical print dyeing and mixed techniques, or eco-printing, which is a technique that uses plants, leaves and flowers to leave their shapes, colour, and marks on the fabric.

Batik is both an art and a craft, and decorating cloth in this way, using wax and dye, has been practised for centuries.

Batik is a 'resist' process for making designs on fabric. The artist uses wax to prevent dye from penetrating the cloth, leaving 'blank' areas in the dyed fabric. The process, wax resist then dye, can be repeated over and over to create complex multicoloured designs.

To the joy and surprise of the participants, an enthralling 'Legong Dance' was performed by visiting a dance maestro Keni Soeriaatmadja.

'Legong Dance' is one of Bali's most visually alluring royal court performances.

The dance is considered one of the island's most revered classical pieces, known for its physically demanding postures and fast-paced movements which require a significant level of flexibility among its generally young female performers.  

Published in The Express Tribune, November 12th, 2019.