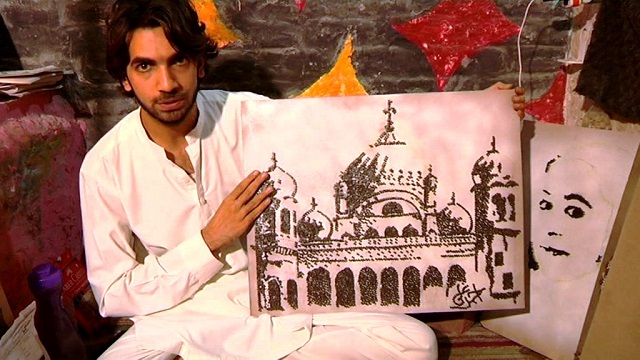 ---
LAHORE: The mark of a true visionary is taking something mundane, and turning it into something extraordinary.




In the same way, a young artist in Lahore has created visual representations of famous personalities, as well as an image of Gurdwara Darbar Sahib, using a less than conventional medium; iron nails.




Ahmed Ali Sadiq, a resident of the capital city of Punjab, has created several masterpieces without even touching paints and brushes. Fuelled by his burning passion to create something unique, he has made portraits of Prime Minister Imran Khan, Chief of Army Staff General Qamar Javed Bajwa and several others, including Kashmiri Hurriyat leaders.




"The entire nation is expressing solidarity with Kashmir and trying to shed light on the brutalities ongoing in the [disputed] valley. In the same way, I, as an artist, am also trying to do the same," Sadiq says.




He explains that he initially wanted to make a portrait of PM Imran, which is why he adopted this unusual method. From there, he started to recreate the images of other well-known personalities.

Inaugural exhibition held at newly established ArtOne62

The artist has also made an image of Gurdwara Darbar Sahib to commemorate the 550th birth anniversary of the founder of Sikhism – Baba Guru Nanak Devji. Sadiq maintains that he wants to personally present this "painting" to the leaders of the Sikh community.




"I want to show the world how welcoming and loving the people of Pakistan are. Moreover, I want this picture to spread a positive message to the Sikh community across the world," he says.




Elaborating on his process, Sadiq explains that he starts off by sketching on a piece of wood. Then, very carefully, he begins hammering in the nails along the sketched lines.




"A single piece can take up to three to four days and can use up nearly 8,000 nails," he says. He adds that he has also dabbled with other mediums, such as paints and clay, but ultimately prefers creating with iron nails.




This is not the first time Sadiq has created a piece of art using something unusual. Three years ago, he created a seven-foot-tall model of Minar-e-Pakistan using pencils.