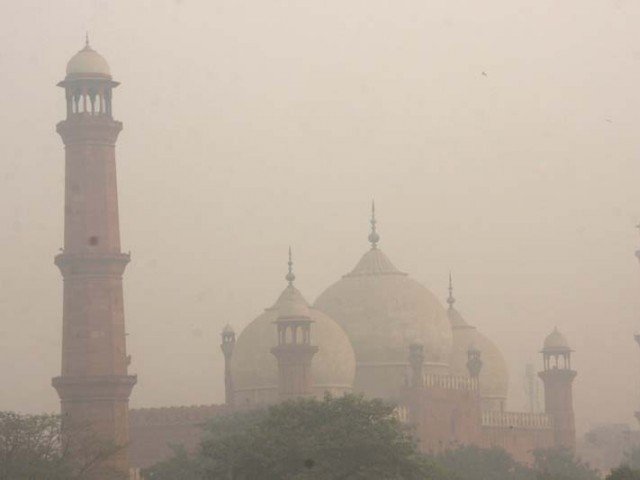 ---
LAHORE: Smog soared to alarming levels in the provincial capital on Thursday, posing a threat to public health and forcing authorities to close schools.

According to Punjab Health Services Director General Dr Haroon Jahangir Khan, an alert was issued across the province and special counters were set up at all government hospitals. He added a campaign had also been launched to distribute masks and pamphlets to create awareness among the masses in Lahore, Sheikhupura, Sialkot, Faisalabad, Okara and Gujranwala.

Dr Khan said arrangements had been made to provide medicines at all public hospitals.

On the other hand, District Education Authority CEO Parvez Akhtar told The Express Tribune that the government has not decided to close schools on Friday (today), but there was a possibility that timings could be changed.

Smog forces schools to remain closed today in Punjab

Punjab Chief Minister Usman Buzdar, late on Wednesday night, announced the closure of all public and private schools on Thursday after the air quality index reached over 580 in some parts of the city.

Further, people have been advised that until smog persists, the elderly, children and the infirm should stay indoors with their windows closed. Doctors advised that people who feel the effects of smog should drink plenty of water and wear face masks if they have to venture outdoors.

Fatal for motorcyclists

Smog in the provincial capital may turn out to be fatal for motorcyclists. According to doctors, motorcyclists can be killed if they do not take precautions and fail to use helmets. Senior Physician Dr Faisal Rafiq told The Express Tribune that a layer of contaminated smoke, released from running buses, cars and factories, mixes into the air. "This problem of severe air pollution in the provincial capital has been present for the last several days."

Speaking on the effects of air pollution and the resulting smog, Dr Rafiq explained that if a motorcyclist is not wearing a helmet or mask during their ride, the substance enters the body while breathing. He added this results in nasal infection flu. "The infection spreads to the trachea, increasing the risk of pneumonia."

He added that smog may prove to be the most dangerous for infants as well as people over the age of sixty because of the poor immune functionality of their bodies, "Therefore, children and the elderly should not travel on motorcycles. They should use water to avoid the damage caused by smog, wear face masks as mandatory and not ride a motorcycle without a helmet."

"People over 60 years of age, who suffer from diabetes and asthma, must get vaccinated," he recommended.

Smog: Scores of Indian farmers arrested over polluting fires

Reportedly, traffic wardens have also been ordered to wear a mask during duty and to inform motorcyclists about the harms of smog.
Chief Traffic Officer (CTO) Liaquat Ali Malik said that so far, action has been taken against 29,251 vehicles causing environmental pollution. "In response to the smog issue, City Traffic Police and the Department of Environment have joined forces and launched action to restrict those vehicles and buses which emit hazardous smoke and contribute to an increase in smog."

The CTO added that action was taken this year against thousands of vehicle owners over heavy fuel smoke. "The data shows as 4,014 vehicles in January, 2,112 vehicles in the month of February, 2,502 vehicles in March, 1,939 in the month of April, 2,271 in May, 1,821 in June, 1,683 in July, 1,167 in August, 2,141 in September and 9,701 vehicles were charged during the month of October."

The highest number of vehicles was recorded in October and further action against polluting vehicles will be taken in November, he maintained. "Smog can be prevented by taking precautionary measures."

The dangers of smog can be avoided through awareness. If we want to reduce the effects of smog, it is necessary to spread awareness through effective campaigns, he further said.  The CTO instructed transporters to maintain smoke-free practices, ensure the cleanliness of vehicles and get their proper inspection on a regular basis. "Smog causes problems such as breathing issues, nose and throat diseases, and irritation to the eyes," he said. He concluded that pollution-free air is key to a safe and healthy society.