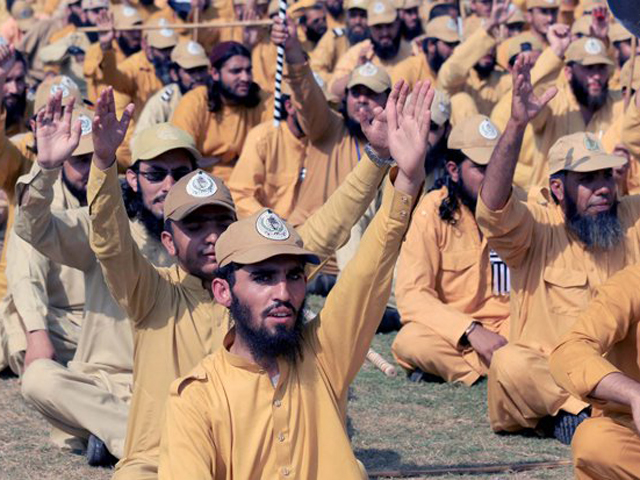 ---
ISLAMABAD: Less than 24 hours after the appointment of new SSP Operations Mustansar Feroze, Islamabad Police have started to take strict measures to quell opposition parties' anti-government Azadi March, scheduled for October 31 in the federal capital.

The law enforcement force has placed a ban on providing catering, sound system and tent services to the protesters while hotels, motels and guest houses have also been prohibited to offer them accommodation.

Jamiat Ulema-e-Islam (JUI-F) chief Maulana Fazlur Rehman will march on Islamabad to "topple the PTI government", accusing it of coming into power through rigged elections. All major opposition parties including PML-N, PPP, ANP and PkMAP have already announced their support for the protests.

In written warning notice, the Capital Territory Police also warned crane and excavator machine operators, power generator vendors, welders and hardware stores against offering their products and services to the participants of the protest.

According to a senior official, all 22 police stations of Islamabad have issued advance notices to the mentioned service providers and business owners operating in areas of their jurisdiction. As per the warning notice, supply of any tools, accessories and equipment for the protest is strictly prohibited. Those found involved in the activity would face action, it read.

JUI-F launches 'Camel Caravan' to mobilise people for attending Azadi March

The new police SSP was not available for comment on the development despite repeated attempts.

Meanwhile, terming the move illegal, the business community in Islamabad has categorically rejected it.

Speaking to The Express Tribune, All Pakistan Anjuman Tajaran (traders union) President Ajmal Baloch maintained that those giving wrong advices on how to take on the protesters were not loyal to the government.

"How can an institution prohibit traders from earning their living?" he asked, maintaining that law does not allow any such move. "Not long ago, people from Pakistan Tehreek-e-Insaf (PTI) and Pakistan Awami Tehreek (PAT) would procure food from catering services and hotels in Islamabad and Rawalpindi when they were on their anti-government protest spree and staged a sit-in at D-Chowk for 126 days," said Baloch, adding that there were no such restrictions back then so why is such a ban being placed right now?

IHC throws JUI-F rally in Islamabad officials' court

The APAT president asked the government to fight its political battle on political field and avoid affecting businessmen and traders by dragging them into their power game.

"Businesses are already down and threatening notices such as this one will only make the situation worse. The government should take notice of such moves," he said.