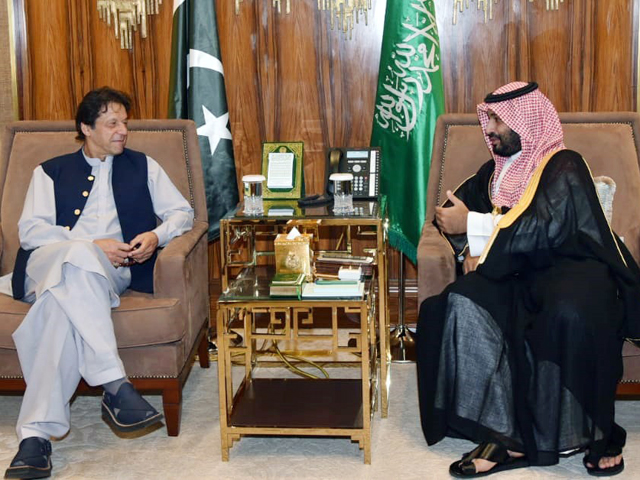 ---
Prime Minister Imran Khan met King Salman bin Abdulaziz and Crown Prince Mohammed bin Salman during his brief visit to Riyadh as part of Pakistan's efforts to defuse tensions between Iran and Saudi Arabia.

During the separate meetings on Tuesday night, Prime Minister Imran stressed on the need to resolve differences and conflicts through political and diplomatic means for the sake of peace and stability in the region.


وزیراعظم عمران خان کی سعودی فرمانروا خادم حرمین شریفین شاہ سلمان بن عبدالعزیز آل سعود سے ریاض میں ملاقات۔
ملاقات میں دونوں رہنماؤں نے دوطرفہ تعلقات، خطے میں امن و امان اور عالمی سیاسی صورتحال پر تبادلہ خیال کیا۔ انہوں نے دوطرفہ تعاون کو مزید بڑھانے پر بات چیت کی۔ pic.twitter.com/tiygA3C1rO

— Government of Pakistan (@GovtofPakistan) October 15, 2019


He also briefed the Saudi leadership about the latest situation in Indian Occupied Jammu and Kashmir.

Foreign Minister Shah Mehmood Qureshi, Special Assistant for Overseas Pakistanis Syed Zulfiqar Abbas Bukhari and senior officials were also present in the meetings.

Earlier in the evening, Riyadh Governor Faisal bin Bandar bin Abdulaziz Al Saud and Minister of State and National Security Advisor Dr Musaad bin Mohammed Al Aiban welcomed the prime minister upon his arrival at royal terminal of the King Khalid Airport.




Pakistan's ambassador in Saudi Arabia, Raja Ali Ijaz, Saudi officials and other officers of the Pakistan Embassy were present at the airport to receive the premier and his delegation, Radio Pakistan reported.

The visit comes a day after PM Imran returned from Tehran, where he met the top Iranian leadership.

This is his third trip to Saudi Arabia this year, where he is expected to discuss regional developments and other matters with the Saudi leadership.

PM Imran is accompanied by Foreign Minister Shah Mahmood Qureshi, special assistant Zulfikar Bukhari, and ISI DG Lt-Gen Faiz Hameed.




A Foreign Office (FO) statement noted Pakistan's strong ties with Saudi Arabia "marked by mutual trust, understanding, close cooperation and an abiding tradition of supporting each other".

Pakistan will facilitate Iran-S Arabia talks: PM Imran

PM Imran reiterated on his visit to Iran that Pakistan was ready to act as a facilitator between Iran and Saudi Arabia, to sort out their differences through dialogue.

The prime minister said, "The issue is a complex one but it is possible to sort out differences through dialogue."

He also explained that his trip to Iran would be followed with a visit to Saudi Arabia on Tuesday which was sole "Pakistan's initiative" as they were not asked by anyone to undertake such a trip.

He made it clear that Pakistan's role would be of a facilitator and not a mediator, stressing that it was imperative for everyone not to allow any conflict to take place in the region as he viewed certain vested interests which wanted to flare up tensions in the region.

Oil attacks 'unquestionably' sponsored by Iran: Saudi Arabia

Tensions have been high between Iran and Saudi Arabia since an attack on the Kingdom's two oil facilities on September 14 that caused fires and damage.

Saudi Arabia temporarily halted production at two Aramco oil facilities after they were attacked by Yemeni rebels, interrupting about half of the company's total output - shutting down 5.7 million barrels per day of production – more than 5% of global oil supply.

The rebels said they launched "a large-scale operation involving 10 drones" on the facilities.

The United States blamed Iran for the strikes.

On October 11, two missiles struck an Iran-owned oil tanker setting it ablaze off the Saudi port of Jeddah.