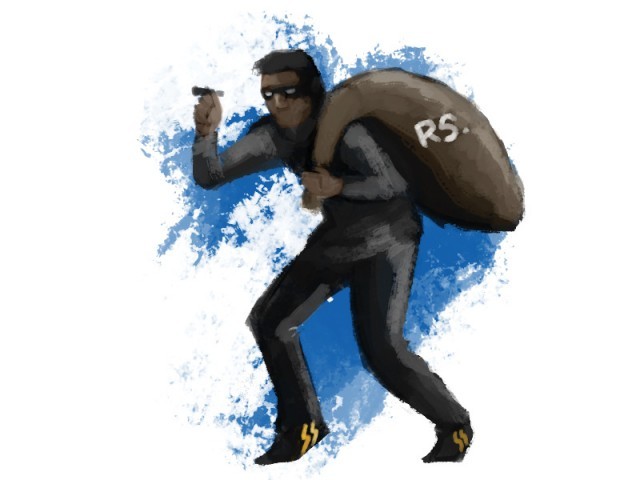 ---
KARACHI: In a robbery bid, a gang of unidentified armed men, with their faces covered, broke into two houses in Javed Bahria Housing Society, on Sunday, and looted cash and other valuables.  The robbers barged in house no. 11, belonging to a transporter, Firdous Ahmed Khan, and house no. 13, belonging to Maqbool Hussain, a retired government official. They took away with 142 tolas of gold, 81,000 Saudi riyals, $4,000, nine mobile phones, five wrist watches, one 30-bore pistol, one 32-bore pistol and bullets.

On being informed of the incident, a police team reached the crime scene and gathered evidence including fingerprints. The robbers left behind a slipper, muffler and a scarf, which have also been handed over to the police.

According to Khan, the robbers scaled the boundary wall of the society to enter its premises. After breaking into Khan's house, they held him and his family members hostage at gunpoint, and later locked them inside a room, he said.

After looting Khan's house, they then broke into Maqbool's house.

According to Maqbool's brother Zakir Hussain, about eight armed men entered their house, tied Maqbool's hands, and beat him after locking him inside a room.Meanwhile, they locked the women present inside the house in another room, he said.

Maqbool's family members claim that the stolen mobile phones were switched on till three hours after the incident took place and police had tracked down the phones' location, however Citizens-Police Liaison Committee personnel raided a truck terminal instead of the traced location.

Police, on the other hand, claim that the traced location was not that of the robbers.

A case against eight unidentified armed men has been registered at Mauripur Police Station, under section 392 (punishment for robbery), on behalf of Khan's son.

Published in The Express Tribune, October 14th, 2019.
COMMENTS
Comments are moderated and generally will be posted if they are on-topic and not abusive.
For more information, please see our Comments FAQ