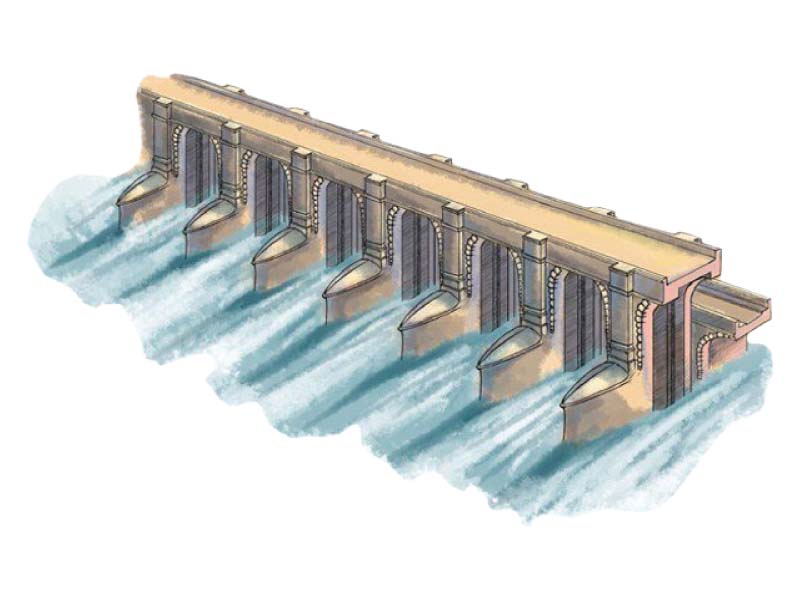 ---
HYDERABAD: The Sindh barrage, a proposed irrigation structure on Indus River in Thatta, 45-kilometres upstream of the Arabian Sea, has started to stir opposition among the local people who have been suffering from an acute water shortage for years. The notable persons of Larr, the region comprising Thatta, Sujjawal, Badin and Tando Muhammad Khan districts, formed a platform titled 'Larr Bachayo Ittehad' [Save Larr Alliance] on Saturday.

At a press conference in Thatta, Ittehad's Convener Obhayo Khan Khushk, a literary person, unequivocally rejected the barrage proposal. "We consider it a project which will destroy Larr," argued Khushk. "We will prepare the people for a long struggle against this project."

Prime Minister Imran Khan announced the construction of the barrage, which will be the fourth barrage if constructed in Sindh after Guduu, Sukkur and Kotri barrages, two months ago. The provincial government of Pakistan Peoples Party (PPP) also agreed to the proposed project.

The federal government claimed that the purpose of the barrage will be to check unremitting sea intrusion which has devoured tens of thousands of cultivable agricultural land in the coastal district. The barrage will also supply additional water to the coastal districts besides Tharparkar.

The government has planned to acquire 56,500 acres land for the barrage, including 55,000 for the flood plain, 800 acres for a left bank canal and 700 acres for a right bank canal. The Water and Power Development Authority (WAPDA) will complete the feasibility by September 2020 and the project will be initiated in January 2022 and completed by December 2024.

"The Sindh government is supporting a flawed barrage plan of WAPDA," Khushk contended. He pointed out the Left Bank Outfall Drain and Right Bank Outfall Drain, two mega projects of draining Punjab and Sindh's saline water towards the sea, as the failed projects of WAPDA which destroyed hundreds of thousands of acres land in Sindh including the Manchar lake.

He claimed that the barrage will increase waterlogging and salinity in Larr's districts. "It's a flawed concept that the barrage will stop sea intrusion. The intrusion can be stopped if the required water is released in the downstream of the Kotri barrage," he said. "Larr's problem isn't the construction of a new barrage or new canals but releasing the due share of water from the Kotri barrage in the river's downstream." Khushk also rejected the notion that the barrage will help restore the delta. A retired irrigation official Mir Muhammad Parihar and Sindh Liberation Front's chairman Nawaz Khan Zaunr are other office bearers of the alliance. Khushk said the Ittihad will soon launch a campaign to take the other stakeholders including the legislators and elected representatives on board against the project. The alliance will also hold technical briefing sessions. 

Published in The Express Tribune, October 6th, 2019.