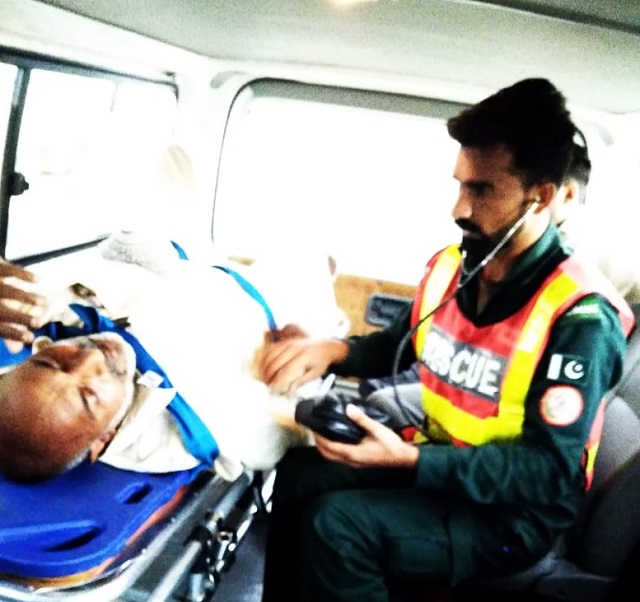 ---
RAWALPINDI: Setting an example of honesty and rekindling people's faith in humanity, Rescue-1122 staffers not only saved an elderly man's life but also returned all of the poor man's savings to his wife on Friday.

Amjad Shah, 60, had fallen unconscious from Marir Chowk Bridge due to high blood-pressure, a spokesperson for the rescue service told The Express Tribune. On eye-witnesses' report, Rescue-1122's emergency technician Amanullah and ambulance driver Shoaib reached the spot soon after the incident, he added.

"While shifting the patient to ambulance they became aware of a huge sum of money in his possession," he said.

Entangled owl on tree top rescued by emergency service in Rawalpindi

Shah was taken to the district headquarters hospital, where his life was saved owing to timely action of the rescuers. They also informed family members of the patient and returned Rs729,000, the amount recovered from the patient's possession, to his wife when she arrived at the hospital.




Overpowered with emotions and gratitude, the woman thanked the honest members of the force and praised the institution for the noble gesture.

"This money is my husband's life's savings, which he was bringing home from bank when fell unconscious due to high blood-pressure," she said.
COMMENTS
Comments are moderated and generally will be posted if they are on-topic and not abusive.
For more information, please see our Comments FAQ