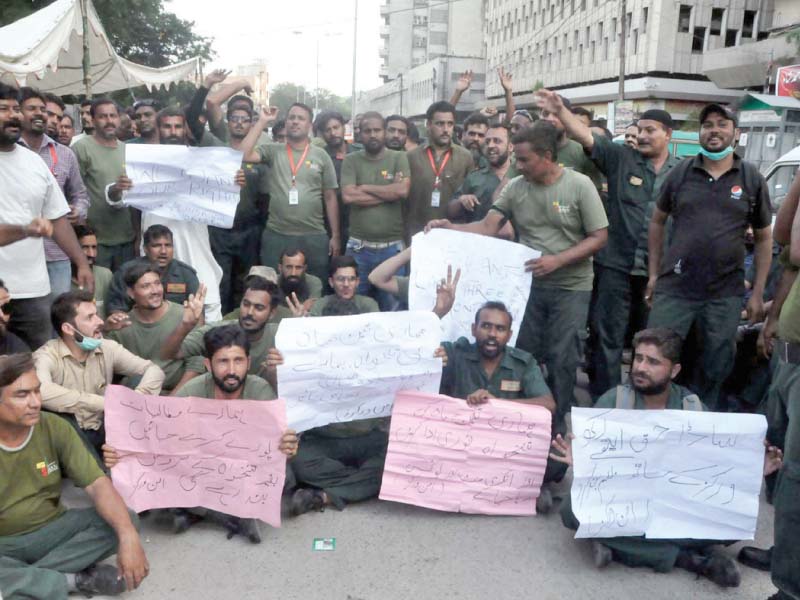 ---
KARACHI: Ambulances of the Sindh Rescue and Medical Services (SRMS) suspended operations in Karachi on Tuesday due to the delay in the release of funds by the Sindh government. Drivers and staff of the ambulances suspended services in protest and demonstrated outside the Aman Foundation Head Office in Korangi. They parked the ambulances outside the head office and shouted slogans demanding their salaries.

SRMS, the only free-of-cost lifesaving ambulance service in Karachi, was formally launched on June 25, earlier this year, as a public-private partnership between the Sindh government and Aman Health Care Services. The former provides the funds while Aman Health Care Services manages the operations.

The protestors claimed that their salaries have not been paid for the past three months due to non-provision of funds and maintained that it has become difficult for them to continue working. They warned of a protest outside Karachi Press Club if their salaries are not paid.

Non-provision of funds

Administration of the Aman Foundation acknowledged that the payment of funds has been delayed but said that the Sindh government has assured the release of funds soon.

According to sources, the provincial government has to pay around Rs412 million. Sources confirmed that services of SRMS were not fully restored till Tuesday evening. Some 15 out of 60 ambulances reportedly started operating again but the services will remain partially suspended till funds are not released.

Govt responds

Meanwhile, the Sindh government has announced the allocation of Rs412 million for the SRMS, previously known as Aman Ambulance, for the smooth functioning of the ambulance network.

The SRMS has basic life support ambulances that are meant for emergency response, advanced life support ambulances that are equipped with AED machines and cardiac monitors, and advanced cardiac life support ambulances that are equipped with ECG machines.

The ambulances are run on an internationally certified Medical Priority Dispatch System (MPDS) along with the latest medical equipment, life-saving drugs and trained paramedics.

Since the initiation of the partnership, 102,606 lifesaving interventions have been made. "Sindh government's resolve and efforts to transform emergency medical services are commendable and creating a visible impact and we are proud to be working with the government for this noble cause," said Shazina Masud, the CEO of Aman Health Care Services.

She added that the non-availability of funds had created serious financial and operational issues for the service. Even the staff was not paid salaries for some time. Masud expressed gratitude, however, to the Sindh government for their announcement to release funds. "We are in touch with the Sindh government and hope to receive the funds at the earliest so that the salaries may be disbursed," she added.

*With additional input from PPI 

Published in The Express Tribune, October 2nd, 2019.
COMMENTS
Comments are moderated and generally will be posted if they are on-topic and not abusive.
For more information, please see our Comments FAQ