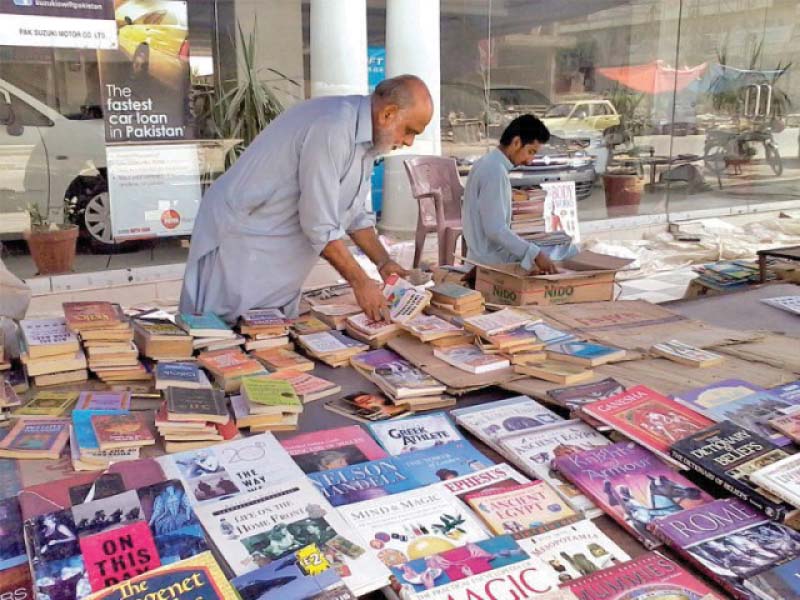 ---
ISLAMABAD: In a country where the pristine aisles of high-end bookstores often cater only to the elite, many throng weekly book bazaars in the quest to find more affordable and often used editions of their favourite pieces of literature.

Laid on sidewalks or piled by a public square, these roadside vendors offer a variety of books ranging from history and politics to course books and magazines, for a fraction of the price of the cling-wrapped and neatly displayed titles gracing upscale bookstores.

As the week lapses into a close and the surrounding shops drop their shutters for the weekend, a similar setup emerges on the bustling sidewalks of Rawalpindi's oldest thoroughfare. Somewhere on the corner of the street, a frazzled old man props himself on a plastic chair like an ardent sailor in a sea of books, as passersby skim through his assortment of publications; occasionally greeting him with a neighbourly smile.

Fareedul Haq, 60, has been setting up his weekly bookstall on Bank Road, in the city's cantonment area for the past 20 years. The Sunday book bazaar itself has thrived for over 70 years, offering a variety of economically priced titles to the market's diverse gentry.




"I love selling these books and I will keep doing it, as I always have, come rain or snow," tells Fareed letting out a cold sigh. "But recently, the RBC staff and the police has been giving us a lot of trouble in pursuits of our halal livelihood," he adds.

Where the weekly book bazaar is historically weaved into the business center's identity and functions under the patronage of The Rawalpindi Cantonment Board (RCB) for a fee of Rs300 per stall, the local traffic police however, believe that the setup is a hindrance to the flow of traffic in the area and needs to be removed.

On Sundays, when most of the city's residents are still nestled in their beds, Fareed toils to unload cartons of old books brought from Karachi and sets up his stall, before the market-goers wakeup to throng the streets of Saddar. "I try to offer discounted rates to students who cannot afford textbooks," he shares while stocking a pile of age-old magazines on his stall.

The bazaar, which spans from Capital Cinema to Kashmir Road and opens from 6am to 10pm, offers something for everyone. The city's younger generation is quite fond of science-fiction, students prefer discounted course books and professionals like political figures, movie actors, broadcasters, lawyers, journalists, doctors and lawmakers who grace the market have all kinds of titles to choose from, explains the veteran bookseller.

Books from all parts of the world find their way to Rawalpindi's historic book bazaar, often heirlooms reminiscent of foregone times, waiting for a new reader to discover the history between their pages. Many stalls at the bazaar including Fareed's also maintain the circulation by accepting used books for half the price, making sure no story goes unread.

"We save our pocket money to buy books and come here every other Sunday. The English novels and biographies we find here are cheaper than a store and very informative," tell students Ali and Fatima, as they skim through a collection of titles piled before them.

Published in The Express Tribune, September 28th, 2019.
COMMENTS
Comments are moderated and generally will be posted if they are on-topic and not abusive.
For more information, please see our Comments FAQ