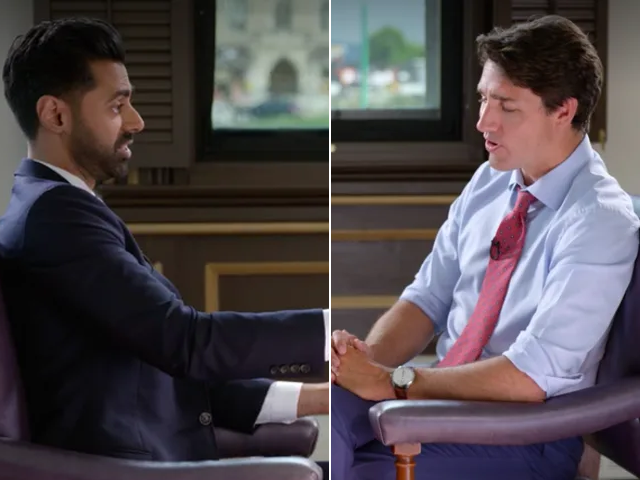 ---
In a interview with Hasan Minhaj, the Canadian politician Justin Trudeau recently spoke about his beliefs concerning equal rights for all religious minorities.

Minhaj pointed out the new secularism bill introduced in the Canadian province of Quebec, which bars civil servants in positions of authority from wearing religious symbols at work.


I tried. #NowStreaming pic.twitter.com/T26xsMPqXW

— Hasan Minhaj (@hasanminhaj) September 1, 2019


The Coalition Avenir Quebec's (CAQ) bill includes judges, police officers, teachers and other public figures. It prevents the wearing of symbols such as the kippah, turban or hijab at work. The bill aroused controversy as it was a part of an immigration programme overhaul which the government believes might help the province meet labour market needs and improve the integration of newcomers, reported BBC.

https://www.bbc.com/news/world-us-canada-48477086






Trudeau blatantly disagreed with any such bill that limits people from wearing what they want in an independent and free society. He claimed that he is against any act that denies people of the right to practice their religion, stating that, "In a free society, you cannot legitimise discrimination against someone based on their religion."

Minhaj further question if the politician is accepting of all religions, to which Trudeau commented by saying that he is "accepting of a country that needs to be defending minorities – accepting Christianity, accepting Judaism, accepting Islam."

To his response, the host said,"Do you accept Islam as the one true faith and the Prophet Muhammad (PBUH) as the last and final messenger?"




The crowd lauded the cross-questioning while Trudeau happily claimed himself to be a "proud catholic with tremendous respect for all religions." Minhaj then jokingly turned to the camera and whispered, "Guys, I tried."

The interview is part of the latest episode of Minhaj's hit talk show The Patriot Act.

Have something to add to the story? Share it in the comments below.