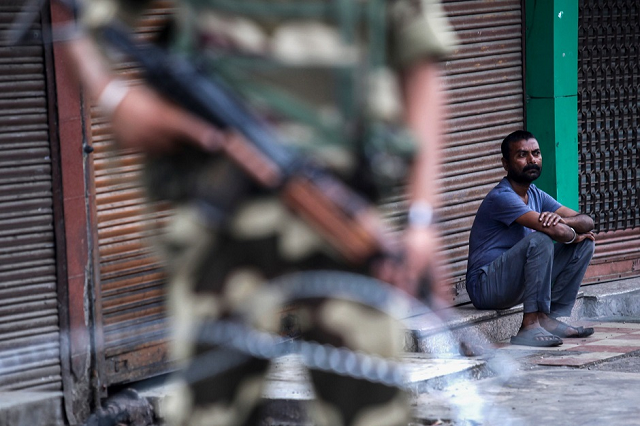 ---
Occupational forces have been accused of violence against civilians in occupied Kashmir in the wake of the Indian government's decision to revoke the region's special status, the BBC reported.

The British broadcaster interviewed several villagers who said that they were brutalised with sticks, cables and given electric shocks as a form of torture, and revealed their injuries.

The Indian army claimed that the accusations put forth were "baseless and unsubstantiated".

State-sponsored violence witnessed a spike in occupied Kashmir following the revocation of Article 370 on August 5 - terminating the valley's autonomous status.

Foreign media correspondents visit LoC, briefed on Kashmir situation: ISPR

Additionally, the Indian government deployed tens of thousands of extra military personnel instigating a complete physical and information lockdown, and detaining about 3,000 people - including political leaders, businessmen and activists - many of whom have been moved to prisons outside the state.

According to the BBC, similar accounts of violence and torture by occupational forces have been found in dozens of villages across occupied Kashmir sparking an anti-India militancy sentiment.

Health officials are scared of speaking to journalists about the injured regardless of their ailments.

Residents of one village said the Indian troops began raiding every house mere hours after the announcement was made of the abrogating Article 370.

Two brothers - who were wished to remain anonymous -  claimed that they were woken up and forced to an outside area along with nearly a dozen other men from their village.

"They beat us up. We were asking them: 'What have we done? You can ask the villagers if we are lying, if we have done anything wrong?' But they didn't want to hear anything, they didn't say anything, they just kept beating us," one of them said.




"They beat every part of my body. They kicked us, beat us with sticks, gave us electric shocks, beat us with cables. They hit us on the back of the legs. When we fainted they gave us electric shocks to bring us back. When they hit us with sticks and we screamed, they sealed our mouth with mud.

"We told them we are innocent. We asked why they were doing this? But they did not listen to us. I told them don't beat us, just shoot us. I was asking God to take me, because the torture was unbearable."

A young man from another village said the soldiers ordered him to remove his glasses, clothes and shoes after they asked him to "name the stone-throwers" and he denied any knowledge of them. The soldier were referring to the mostly young men and teenage boys who have in the past decade become the face of civilian protests in occupied Kashmir.

"Once I took off my clothes they beat me mercilessly with rods and sticks, for almost two hours. Whenever I fell unconscious, they gave me shocks to revive [me].

"If they do it to me again, I am willing to do anything, I will pick up the gun. I can't bear this every day," he said.

The young man added that his torture was a form of intimidation for the rest of the villagers and that he was ordered to tell anyone who wishes participate in any protests against the forces, they would face similar repercussions.




India has built an army camp in the region and soldiers regularly scour the area in search of militants and their sympathisers, however the villagers say they often suffer the most getting caught in the middle.

A man in his early 20s claimed he was threatened of being framed if he did not become an informant against militants. After he refused as a sign of protest, he said that the troops beat him to a point that two weeks later he still cannot lie on his back.

"If this continues I'll have no choice but to leave my house. They beat us as if we are animals. They don't consider us human."

Lodhi meets UNGA president to discuss Kashmir situation

Despite Indian government's denial of any form of violence against civilians, a report released earlier this year by two prominent Kashmiri human rights organisations documented hundreds of alleged cases of human rights violations in the occupied territory over  30 years.

The UN Commission on Human Rights has also called for setting up a Commission of Inquiry (COI) to conduct a comprehensive independent international investigation into allegations of human rights violations in Kashmir. It has released a 49-page report on alleged excesses by security forces in the region.

India has rejected the allegations and the report.
COMMENTS
Comments are moderated and generally will be posted if they are on-topic and not abusive.
For more information, please see our Comments FAQ