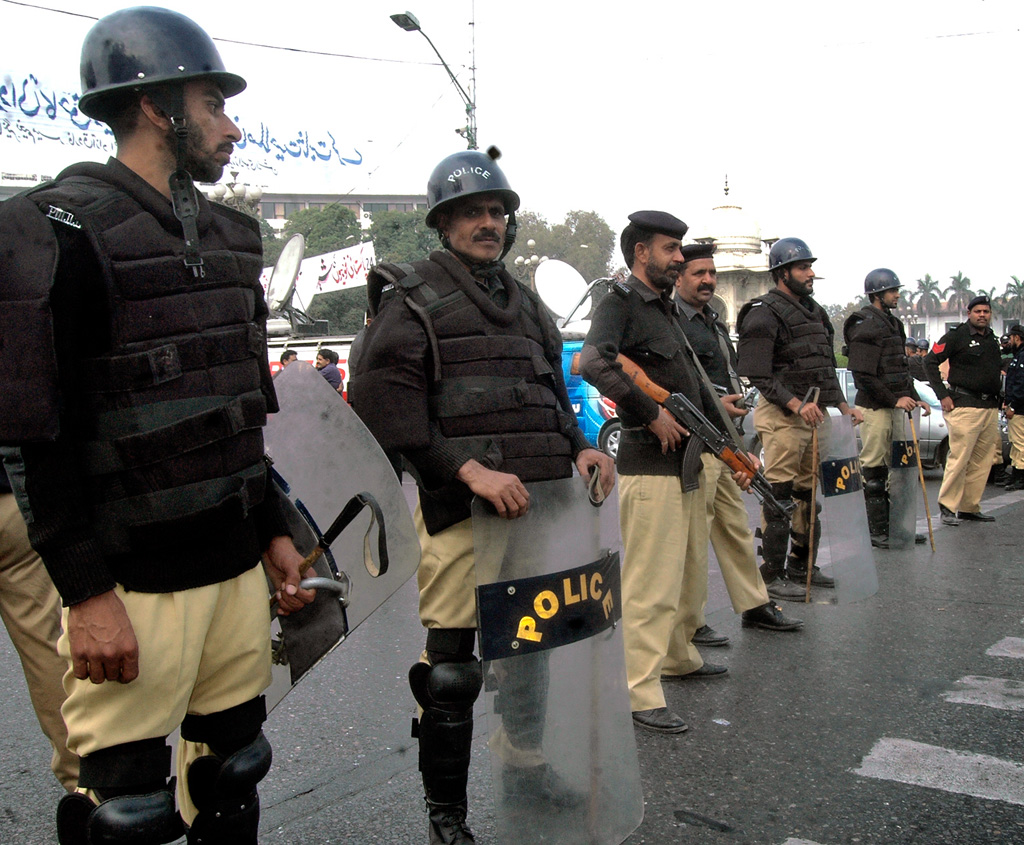 ---
LAHORE: A private torture cell, run by officers of Gujjarpura police, in a building of Forest Department, in Karol Village, has been found.

At least six citizens have been illegally detained in the cell and are being brutally tortured there for months.

The victims included traders, students and labourers. A victim's bones were broken while he was chained to charpoy. The victim, revealed in a leaked video, said that he was beaten up by police officials in front of his son and daughter.

Reshuffle in Punjab police on cards as complaints of misconduct continue

Another victim told The Express Tribune that police officers looted ornaments, cash and valuables from his house during a raid. A third victim stated that he had been tortured through a technique that involved stretching his legs excessively.

Another victim accused police of hanging him with his hands tied behind his back. Reportedly, the victims cried for justice, as seen in the video.

After the video surfaced, Capital City Police Officer (CCPO) BA Nasir took notice of the incident and ordered DIG Operations Ashfaq Ahmad Khan to submit a report.

The CCPO, in a statement, said that any unlawful act will not be tolerated. He vowed to take stern action against the officials involved in such activities.

Meanwhile, the DIG operations ordered suspension of Gujjarpura SHO Raza Jaffery, Head Constable Muhammad Imran Shahzad and Constable Zubair to police lines and ordered SP Civil Lines Dost Muhammad to conduct an inquiry into the matter.

This is not the first series of police-related abuses, especially third degree torture in private cells or within police premises, which have been reported.

The measures taken up by commanders to check these cells have always proved to be mere formalities. Previously, the incumbent IGP ordered installation of CCTV cameras in lockups but two incidents occurred within a month of the installation. The CCTV cameras did not even provide footage to ascertain what actually transpired.

Besides these incidents, a few months ago, a private torture cell was also spotted in Badami Bagh.

Similarly, during the month of Ramazan, a video footage surfaced in which a youth was beaten up with a leather stick in Lytton Road. Lytton Road SHO was suspended over the issue.

Last year, a video had emerged in which police officials could be seen humiliating and torturing citizens using leather sticks in a police station in Model Town. In cases of police torture, contradictory behaviour prevails as police continue to use torture as a tool of investigation in the police department. The commanders on camera will condemn torture and abuse of power. However, behind closed doors, they will not only justify police torture but also encourage the culture of abuse.

Training courses of Punjab police upgraded

An additional IG said that the debate on violence in governance and policing can be traced back to the era of British colonialism. "During their research, our colonisers had suggested that violence permeated Indian culture and was necessary to solve problems."

He added that twisted notions of violence are part of our people's everyday conversations and jokes, which showed how much ideas of violence are embedded in the minds of some of our people.

An SSP said that police, throughout the world, use torture during investigation. "Torture is not an alien concept when it comes to Pakistan and other countries around the world." 

Published in The Express Tribune, August 27th, 2019.
COMMENTS
Comments are moderated and generally will be posted if they are on-topic and not abusive.
For more information, please see our Comments FAQ