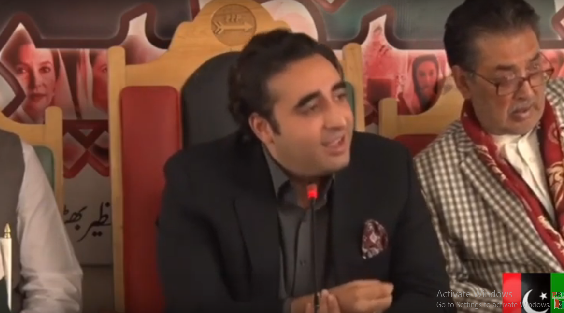 ---
Pakistan Peoples Party (PPP) Chairman Bilawal Bhutto-Zardari has claimed that Prime Minister Imran Khan did not have the courage and legitimacy to highlight atrocities being committed by the Indian forces in Occupied Jammu and Kashmir.

"Only a true democratic leader can do this and not a 'selected premier'," he said while addressing a press conference in Skardu on Sunday.


"سلیکٹڈ اعظم کس منہ سے مقبوضہ کشمیر میں میڈیا پر عائد پابندیوں اور انسانی حقوق کی پامالی پر بات کریں گے جب انہوں نے اپنے ہی ملک میں میڈیا پر تاریخی سینسرشپ اور انسانی حقوق کی دھجیاں اڑا رکھی ہوں۔ "
چیئرمین پی پی پی، بلاول بھٹو زرداری

2/3 pic.twitter.com/EfbQ6vcafa

— PPP (@MediaCellPPP) August 25, 2019


"How a prime minister, who is himself curbing the media freedom and denying the democratic rights to the people, can raise voice against the injustice people of Occupied Jammu and Kashmir are experiencing," Bilawal questioned.

"I will continue to highlight the Kashmir issue before the world as everyone knows that 'historic injustice' is taking place in Occupied Kashmir and that Indian Prime Minister Narendra Modi is a murderer," said Bilawal while lamenting that the Muslim-majority region has been converted into a jail.

Kashmiris throng streets, defy Indian curfew in Srinagar

"If the condition of Occupied Kashmir is normal, as claimed by the Modi administration, then why the Indian government is not allowing opposition leaders to visit the area," the PPP chairman questioned.

On Saturday, a nine-member delegation, led by Congress leader Rahul Gandhi, was sent back  to New Delhi from the Srinagar airport amid strict restrictions imposed in IOK since the abrogation of Article 370.

Bilawal, in today's media interaction, maintained that the PPP was a democratic party and not a 'fascist party'. He said it was his party which granted the constitutional rights to the people of Gilgit- Baltistan.