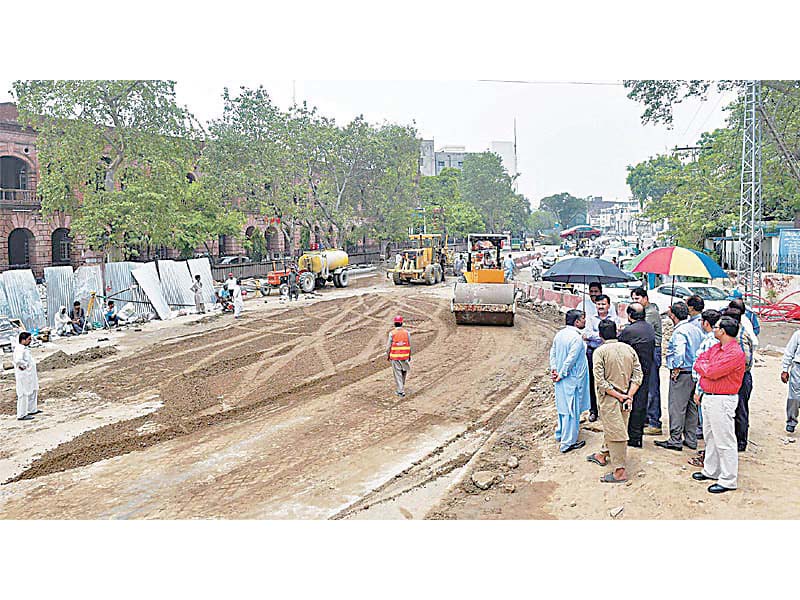 ---
LAHORE: The residents of several housing societies on College Road have strongly protested over, what they termed, the "unmindful development plan" of city developers.

Speaking to The Express Tribune on Tuesday, various residents of Military Accounts Housing Society, Auqaf Colony, Punjab Housing, Eden Boulevard and several private neighbourhoods complained that the Lahore Development Authority (LDA) was spending hundreds of millions of rupees to repair perfectly motorable roads. Meanwhile, those thoroughfares, which are crumbling, are being completely ignored.

The residents of Eden Boulevard, Advocate Aslam Alvi, Arslan Qureshi and Adnan Manzoor, complained that the authority was going to spend Rs109 million on patchwork and installation of curbstones on the already motorable College Road from Akbar Chowk to Ameer Chowk, while a few kilometres remaining section from Ameer Chowk to Military Accounts Housing Society was being ignored.

They highlighted that thousands of citizens were living near Ameer Chowk and a majority of them voted for the Pakistan Tehreek-e-Insaf (PTI), but the government departments were treating them 'unfairly'.

The residents of these housing societies have been forced to endure difficult times, especial during the rains, as accidents were frequent on bumpy roads. The entire road from Ameer Chowk onwards has a lot of potholes, but nobody was paying attention to public complaints.

Residents of Military Accounts Housing Society, Muhammad Aslam and Habib, indicated that their neighbourhoods have staged rallies several times, but all in vain. They demanded that Punjab Chief Minister Sardar Usman Buzdar take a personal interest in resolving this basic issue of thousands of citizens of the provincial capital.

They pointed out that it was the only access road for over a dozen housing societies on both sides of College Road from Ameer Chowk to Military Accounts Chowk. Big markets and commercial areas were situated on both sides of the road which deposit millions to the national exchequer in the form of taxes. However, these locals have been ignored even when it comes to basic facilities, they lamented.

LDA Chief Engineer Mazhar Hussain Khan told The Express Tribune that the authority was aware of the dilapidated condition of College Road from Ameer Chowk onwards and has already put this scheme on current year's development budget. However, he failed to give any timeframe for the reconstruction of the said section of road.

Meanwhile, member provincial assembly Nazir Chohan, LDA Vice Chairman S M Imran and LDA Director General Muhammad Usman Moazam inaugurated repair and maintenance works of Madar-e-Millat and adjoining roads in Township. The repair work will cost a total of Rs110.5 million.

As per project details, the authority will perform maintenance of the 5.8-kilometre long Madar-e-Millat Road. It will spend Rs110.25 million on repair and restoration of roads, from Madar-e-Millat to Minhaj University Road and Ali Road.

It will also spend Rs70 million for the reconstruction of 3.1-kilometer PIA Road from College Road to Wapda Town Roundabout. A sum of Rs10 million will be spent on 2.6-kilometre road from Jamal Chowk to Johar Event Complex.

Speaking to media, LDA Vice Chairman S M Imran highlighted that development works had been restored in provincial capital after a long halt. The authority has kick-started all halted development works which will be completed in 45 days. Reconstruction and maintenance of road will help in improving traffic flow, he concluded.

Published in The Express Tribune, August 22nd, 2019.