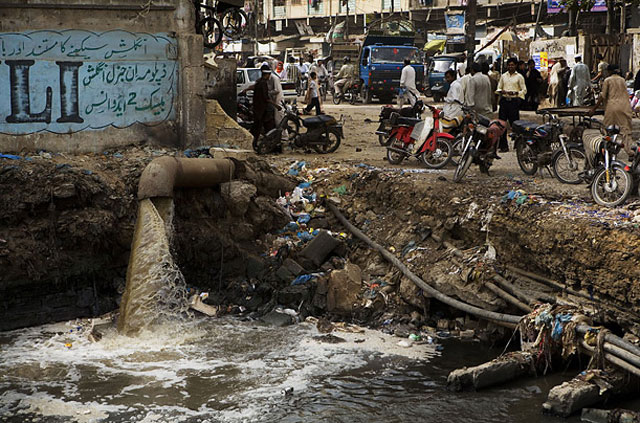 ---
KARACHI: With much of Karachi still reeling from the aftermath of the recent monsoon season, the city has become a stage for a rather strange political battle between Sindh and the Centre.

As they sling mud at each other for doing nothing to fix the metropolis' dysfunctional waste disposal and drainage system, both sides have made various promises and announced several initiatives to alleviate residents' woes.

But in an attempt to tarnish the political players' reputations, certain elements appear to deliberately aggravating an already dire sanitation emergency in the city.

On August 4, while parts of Karachi were still inundated with rainwater, Federal Minister for Maritime Affairs Ali Zaidi launched a two-week-long 'Let's Clean Karachi' drive in collaboration with the Karachi Metropolitan Corporation (KMC) and the Frontier Works Organisation (FWO). Not to be left behind, the Pakistan Peoples Party-led Sindh government has launched its own 'Blue Jacket Movement' with the slogan "say no to open littering".

Meanwhile, Karachi Mayor Wasim Akhtar, who received some Rs1.2 billion from the Sindh government to clear the city's clogged drains, is jostling to get more funds and authority to clean gutters and remove garbage from every nook and cranny of the metropolis.

Mysterious miscreants

With all three of Karachi's major political players in action at the same time, residents would be forgiven for hoping that the city's cleanliness situation would be under control by now. Instead, residents of certain areas of the city complain new drainage and waste problems have emerged in their localities.

At least two killed as rain lashes Karachi



"Just when the federal government announced it would take the initiative in cleaning Karachi, gutters in many areas and business centres like Saddar choked up all of a sudden," said Ghafoor Jat, who runs a garment shop in Zainab Market. He pointed to an overflowing sewer right in front of the market as a case in point.

"I have seen the same situation in many other areas, like Sharea Faisal, Metropole Hotel, Zaibunnisa Street and Abdul Haroon Road," he said. "Believe it, I have never witnessed something like this in the past."

Talking to The Express Tribune, sources privy to developments suggested the phenomenon was a result of a long-standing tussle between the KMC and the Sindh government. "In a bid to defame city authorities, certain elements deliberately choke main sewerage lines in many areas," a senior local government official said, speaking on condition of anonymity. "We have removed bags filled with bricks and stones from many choked sewers."

"This is a war over authority," the official added. "The mayor and KMC are maneuvering to secure more authority and money. The Sindh government wants to keep hold of both. In this tug of war, only the people of Karachi are being punished."

Misery upon misery

The fact that this year's monsoon coincided with Eidul Azha has multiplied Karachiites' miseries. Despite initiatives announced by the federal and Sindh governments and KMC, residents of many areas are still forced to bear the stench of offal and other sacrificial remains lying in the streets in addition to mounds of unattended garbage.

"It's been over a week since it last rained but our area is still inundated," complained Defence View Phase II resident, Aftab. "Overflowing gutters and stagnant rainwater in front of the school in our area has made picking and dropping children hell for parents," he said. "Not only that, I am still encountering the remains of sacrificial animals on the corner of my street. If this is what happens in former local government minister Saeed Ghani's constituency, you can imagine the situation in the rest of the city."

Landslide kills seven in Rawalakot as heavy rain continues

Crowd-funded government drive

It has been 15 days since Pakistan Tehreek-e-Insaf launched the 'Let's Clean Karachi' campaign. Just a few days back, Ali Zaidi made an appeal from Rs1.7 billion in donations for the scheme.

Speaking to The Express Tribune, PTI MPA and the coordinator of the campaign Sidra Imam said Karachi is drowning in very limited rains due to failed town planning, illegal encroachments and poor management to deal with these issues. "During our campaign, we initially focused on drain arteries," she said. "We cleaned the Orangi, Gujjar, Korangi, Mehmoodabad, Malir and Nehr-e-Khayam storm drains over the past few days and removed almost 17,000 tonnes of garbage from choke points."

Asked about the appeal for funds, she said the campaign was helped by some sponsors, banks and the Karachi Port Trust in addition to individual donations from citizens. "The account is being managed by FWO and an audit report will be made public. We will share the status of funds in the next phase as we start our drive to remove solid waste from Lyari," Sidra added.

There are 500 big and small drains in Karachi, with 38 discharging water directly into the sea, officials said. The city also produces as much as 16,000 tonnes of garbage daily, they added.

One of Lyari's MPAs, Syed Abdul Rashid, however, criticised the initiatives launched by PTI, PPP and KMC, saying they were meant only for 'publicity'.

"Knee-deep rainwater mixed with sewage from overflowing gutters has paralysed routine life in Bihar Colony, Chakiwara, Jhat Pat Market and other areas," he said. "If PPP, PTI and KMC being serious mean launching separate campaigns to fix the same problem than the situation will just go from bad to worse," he lamented. "It looks like these gutter politics will sink Karachi."

Dilapidated buildings imperil lives in rainy spells

When contacted, Sindh Local Government Minister Nasir Shah said the provincial government handed Rs1.2 billion to the Karachi last year to clean drains under his jurisdiction. While welcoming the PTI cleanliness drive, he insisted that the drains the campaign supposedly cleared out were already cleaned. The bigger issue, according to him, gutterwas encroachment. "All stakeholders must devise a plan to remove illegal structures built on storm drains," he said.

Regarding PPP's Blue Jacket Movement, Shah said the drive was aimed at teaching citizens not to litter the city. "Keeping the city clean is the people's responsibility as well. We will launch this campaign from District South and expand to other parts of Karachi," he added.

Published in The Express Tribune, August 19th, 2019.