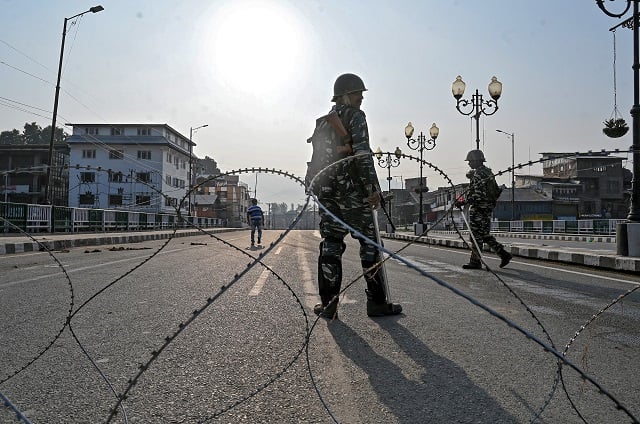 ---
India will lift restrictions on people's movements and communication links in occupied Kashmir in the next few days, the federal government told the country's Supreme Court on Friday.

The court was hearing a petition by a newspaper editor seeking restoration of telephone and internet services snapped this month, just before the government withdrew Kashmir's special status, to prevent protests.

The restrictions would be lifted in the "next few days," the government lawyer, Tushar Mehta, said.

Indian channel NDTV, citing unnamed sources, said schools
will likely open on Monday.

Occupied Kashmir has been in security lockdown for 12 days now as the Hindu nationalist government in New Delhi seeks to snuff out opposition to its move to impose tighter central control over the region.

'Pakistan may redeploy troops from Afghan border to Kashmir'

Indian troops also clamped tight restrictions on mosques across IoK for Monday's Eidul Azha festival, fearing anti-government protests over the stripping of the Muslim-majority region's autonomy, according to residents.

Hundreds of people shouting anti-India slogans spilled on to the streets following prayers in the neighborhood of Soura, the site of a big demonstration on Friday, but authorities largely sealed off the area and kept the protest localized.

Internet and phone communications have been cut and tens of thousands of troop reinforcements have flooded the main city of Srinagar and other towns and villages of the occupied valley.

Black Day observed across Pakistan, AJK

Pakistan has repeatedly and vehemently condemned India's barbaric lockdown in the occupied valley and the resultant curtailment of religious freedom of millions of Kashmiris on Eidul Azha.

"Restrictions and curtailment of this fundamental religious freedom of millions of Kashmiri Muslims constitute a serious violation of applicable international human rights law, to which India is a party," said a statement issued by the Foreign Office on Monday.