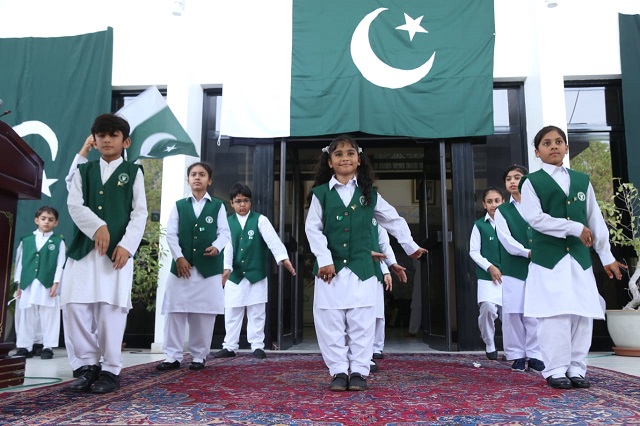 ---
Pakistan embassies and high commissions around the world celebrated the country's 73rd Independence Day with traditional enthusiasm and immense fervour on Wednesday.

Ambassadors and high commissioners in their respective missions raised the national flags to the tune of the national anthem in ceremonies attended by the mission staff, their families and Pakistani community members.

Moreover, messages from President Dr Arif Alvi and Prime Minister Imran Khan were also read out in various ceremonies.

Abu Dhabi

An engaging ceremony was organised at the Pakistan Embassy in Abu Dhabi, attended by a large number of the community members including women and children who sang national songs with national zeal.




PHOTO: EXPRESS

Pakistan's Ambassador to the UAE, Ghulam Dastgir hoisted the national flag at the embassy..

While underscoring the role of Pakistani community in the UAE, the ambassador appreciated their contribution in the development of UAE and the role they are playing in supporting the national economy and improving ties between Pakistan and the UAE.

He also reiterated that the day is being celebrated with the conviction that it would be a harbinger of political, economic and social stability.




Bangkok

The Red-Letter Day was also celebrated at the Embassy of Pakistan in Bangkok as a Day of Solidarity with the people of Occupied Kashmir. A flag-hoisting ceremony was held at the embassy.

Participants expressed solidarity with Kashmiris as they chanted slogans of Pakistan Zindabad and Kashmir Banay Ga Pakistan. Documentaries on the grave situation and the atrocious human rights violations by the occupying forces in Indian Occupied Kashmir (IOK) were screened.




PHOTO: EXPRESS

Ambassador Asim Iftikhar Ahmad highlighted the efforts being undertaken by the government of Pakistan on various fronts to safeguard and promote the Kashmir cause. He said that a strong Pakistan and a vibrant nation are the best guarantee for effective action on Occupied Kashmir.




PHOTO: EXPRESS

Apart from the embassy, the Pakistani community also celebrated the Independence Day together with the Kashmir Solidarity Day in various events held in Bangkok, Pattaya and Phuket.

Independence Day celebrations double Eid's joy

Beijing

The 72nd anniversary of Pakistan was also celebrated with zeal and enthusiasm at the Pakistan Embassy in Beijing on Wednesday with a renewed pledge of full political, diplomatic and moral support to Kashmiris in wake of the latest Indian move to scrap special status of Occupied Kashmir.

Naghmana Hashmi, Pakistan ambassador to China, hoisted the green and white flag while the national anthem was played. The messages of President Alvi and Premier Imran for Independence Day were read out by Deputy Head of Mission Mumtaz Zahra Baloch and Minister (Political) Amir Khan, respectively.

To express China's solidarity with the Kashmiri brethren reeling from latest Indian repression, she said the Independence Day is being celebrated as the Solidarity Day with Kashmiris.

The envoy also appreciated the Chinese government's support to the Kashmir issue, saying that China, during the recent visit of Foreign Minister Shah Mahmood Qureshi to Beijing, fully supported Pakistan's stance and proved to be an iron brother and all-weather friend. "We are proud of our friendship with China," she added.

Paris

A simple yet dignified flag hoisting ceremony was held at the Embassy of Pakistan in Paris to celebrate the Independence Day in solidarity with the brave Kashmiris and their just struggle for their right to self-determination.

Ambassador Moinul Haque, in his address, said the unilateral and illegal act of India to bring changes to the status of IOK was in contravention of international law, United Nations Security Council (UNSC) resolutions, bilateral agreements and pledges made by Indian leaders to the Kashmiri people.

He further called upon the international community, especially the permanent members of UNSC to take notice of the human rights violations in Occupied Kashmir and play their role for the resolution of the long outstanding issue in accordance with the relevant Council resolutions.

In line with the occasion, three Pakistani students were awarded Jinnah scholarships for their outstanding academic achievements. The Jinnah Award was instituted last year by the Embassy of Pakistan in France to acknowledge the academic achievements of Pakistani students in France.

With additional input from APP